There aren't many places where you can wake up to the sun rising over a snow-capped volcano. But YTL Hotels' newest property, Higashiyama Niseko Village, a Ritz Carlton Reserve is one of them. Located at the base of stunning Mount Yotei in Japan, the five-star hotel is set to change the face of skiing when it opens in December this year.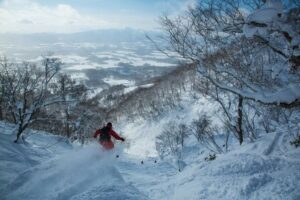 All avid skiers know that little beats an untouched mountain, adorned with last night's snowfall and Higashiyama's home of Niseko Village, offers this in abundance.  With the abrupt end to the ski season last year, this long anticipated opening is all the more import, and has rightly sparked excitement in the ski community. Comprising 50 stunning rooms that combine contemporary and classic design, the real showstopper is the panoramic view guests can expect from their hotel rooms.   Known as the powder mecca of Japan, Niseko Village has long drawn snow lovers from around the world to its perfectly formed mountains, with 2,191 acres of skiable terrain.  The resort has even been selected as the venue for some of the 2030 Winter Olympics' most iconic events, including all four alpine disciplines; slalom, giant slalom, super-giant slalom (super-G) and downhill.
Higashiyama is unique in both its position and the world-class amenities of the hotel.  These include two artistic restaurants, serving traditional Japanese cuisine, (sushi lovers rejoice) a lounge, fitness centre, spa and an onsen.  Japanese women have used the onsen since 901 for a uniquely detoxing and revitalising experience.  Tourism in the region was actually born from those attracted to hot springs long before the slopes.  Niseko Village welcomes guests to enjoy both.  After a day of carving through powder and pushing your limits, there is nothing more inviting than immersion in a mineral hot spring, rooted in ancient healing practices.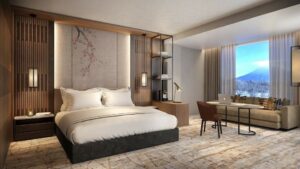 With the limitations of 2020 holding fast, it looks likely ski resorts will be ubiquitous in their decision to shut down Après bars.  No more dancing on the tables, spraying champagne, and sliding home delirious.  But perhaps this isn't the disaster legions of students and senior party goers alike might perceive it to be.  Perhaps we can rediscover our appreciation for such a graceful sport, and the jaw dropping scenery it is set within. Being at one with your surroundings is the fundamental ethos of Higashiyama and Niseko Village. Now is a chance to revitalise and relax on your ski holiday. Take deep breaths, strap your boots tight, and glide from peak to peak, revelling in nature's most beautiful playground, the mountains.
Frequent travellers to Japan will know that it is a destination imbued with harmony and discovery. Making the journey to Asia is not just worthwhile for the snow but also the profound experience of self-discovery through natural beauty. Unlike the fast pace of European resorts, Niseko Village emphasises peace and tranquillity, tangible through the powerful solitude of mountain hikes or the healing elements discoverable in Japan's hot springs.  The core of the Niseko experience is beauty in nature and the profound self-discovery this inspires. The resort is shaped by a belief in Kachou Fuugetsu, the philosophy of discovering oneself through nature. This lesson is perhaps more important now than ever. So let's take advantage of the new normal this ski season might bring, embrace a change of pace and take inspiration from the Japanese mountains.