Endless scrolling through government websites, forums, lockdown news and awaiting the dreaded travel corridor updates… A group press trip never held so much anticipation. On 26th September 2020 we, at Grifco, were finally able to take a step into a travel corridor and whisk ourselves away to Italy to experience the spectacular 1000-year-old medieval villa available through Tuscany Now & More. At times we wondered if the trip would go ahead, seeing Portugal suddenly taken off the travel list and discussions of a rise in UK coronavirus cases making our custom unwelcome in Italy, nerves were building. However, much to our delight and relief, Italy kept us as welcome guests and we were able to remember that euphoric feeling of visiting a new culture once again.
From stepping into the airport, scanning our boarding passes and even moving our liquids into the clear zip-lock bags… Travel never felt so exciting. Despite the mildly claustrophobic feeling of masks as we walked through the airport gates and onto the plane, a lack of claustrophobia came from the space around us. Fewer people and respect from all travellers keeping their distance made for a comfortable journey into Pisa. 
Landing in Italy, notably flying over the leaning tower of Pisa as pictured below, was a moment we'll never forget having been trapped on one small island of the globe for so long. It was time to start the group press trip as planned.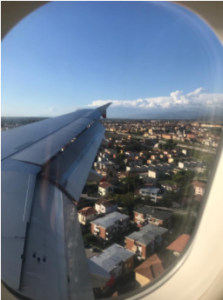 The Food
This press trip opened our minds to some of the best food that Italy has to offer. Staying at Villa Torre Palazzone, the journalists and us, the hosts, were welcomed by a banquet of canapes waiting for us at the top of a Rapunzel-like tower personally made for us by the lovely in-house chef, Georgia. It didn't stop there, of course, Georgia provided us with gourmet Italian meals throughout the stay and invited us to recreate these delicious delicacies at home. We were taught to make ravioli from scratch, traditional salads and a dangerously-simple-to-recreate tiramisu. Pizza making was also on the menu with a wide variety of toppings to suit all dietary needs. Stepping out of the villa we were taken to a small, family-run restaurant just outside the grounds of Torre Palazzone. Our host Kitty described the restaurant as understated, undiscovered by general tourism and one that boasts incredibly fresh food… She was right. This place was small and minimalistic but was lively with Italian locals dining with their families and friendly staff who provided excellent hospitality.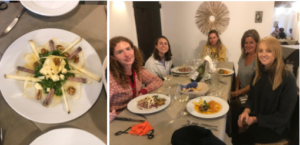 The Activities
Good Italian food is almost always paired with good Italian wine. The local wine tour, organised through Tuscany Now & More was a highlight of the trip and only a stone's throw from the villa itself. We had the chance to explore the Tuscan vineyard with a private tour sharing knowledge of the grapes and manufacturing process, allowing us to further appreciate the wine as we sat down to our tasting selection overlooking the grounds. 
Itching for some culture on our first press trip abroad post-lockdown, Tuscany Now & More had arranged a private tour of Siena with our host, Kitty, a well known art historian. We were enriched with stories of history, modern culture and left feeling more Italian having stopped at a local cafe-bar for an espresso on-the-go. 
Exploring Siena with a Siena-local clearly had its perks. Strolling past one of Europe's highest rated vintage stores, clearly bustling with customers and interest we were given a private time to look around and try on some of the carefully selected items at Aloe & Wolf. 
Culture enriching experiences continued into the trip as we and the journalists were taken through how to make abstract art with villa host, James. This experience turned out to be one of the highlights for us as we left with a physical memory of our time spent in the sunny Italian grounds of this Tuscan villa.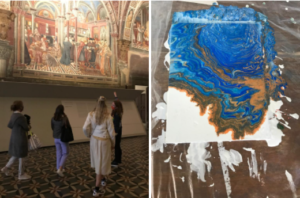 The Villa
Throughout our time spent in Italy, we were lucky to spend it in some of the most beautiful grounds that Tuscany has to offer. Torre Palazzone is a beautiful private medieval castle set entirely on its own at the end of a short drive in the rolling hills near Siena. Torre Palazzone dates back to the Etruscan period and once you're there observing the hills and surrounding valley one can understand why they chose this hillside spot. With space in abundance, a superb central courtyard spurring-off the modern kitchen, and a log fire for the evening conversation reflecting on the day's activities, this villa was the perfect place for an Autumn group getaway.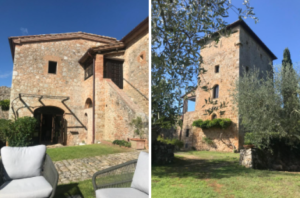 Upon Reflection
The perfect combination of a trusted company, personalised experiences and luxurious accommodation, this Italian escape was simply breathtaking. From admiring the beautiful Italian grounds to wine from neighbouring vineyard, the trip felt truly special. Being in Italy itself, a place that struggled with Covid-19 so early on also felt more of an honour. There was something sobering about arriving in a new place that would usually feel so unfamiliar, yet knowing everyone living in these small towns we passed through, had too, gone through the tragic tales of this deadly virus and everyone here, like us, had a story to tell. This time around, we felt closer to travel and were left with an even greater sense of wanderlust that we hadn't known could become more significant.