This year started a little differently, talks of 'New Year, New Me' were replaced with rumours of new tier restrictions and eventually the announcement of another national lockdown. It therefore felt very surreal at the start of January to be packing my suitcase, digging out my passport (which had not been needed for almost a year!) and jumping in a taxi to Gatwick Airport. I was heading to the beautiful island of St Lucia in the Caribbean – a place where I had never been before and always dreamed of visiting. Our lovely client, 
Windjammer Landing
, had asked me to come out and support with a full hotel photoshoot – and who was I to turn that down!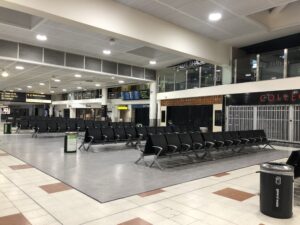 Upon reconfirming that I was permitted to travel and receiving a negative PCR test result, I arrived at the airport and experienced the smoothest journey of my adult life. The airport was completely empty, with no queues in Pret or the last minute scramble at the gate – in fact, I was one of ten travellers boarding the flight… and the only one who disembarked when we touched down in St Lucia.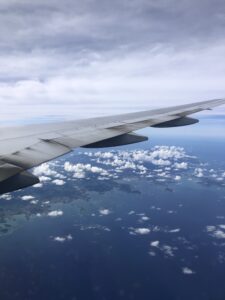 Having left the UK in such a state of uncertainty, I thought it might have been a culture shock arriving on the island and adapting to a more relaxed pace of life – but I couldn't have been more wrong. My transfer driver made it easy, with a personal tour of the history of St Lucia and it's beautiful surroundings – despite the 9 hour flight, I couldn't stop myself asking question after question the entire journey. By the time I arrived at the hotel, I was buzzing from the thrill of being back in a new environment, learning about new cultures again… and feeling that ever-so craved-for winter sun on my skin!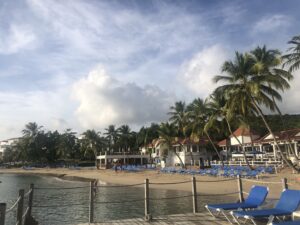 Nestled into 60 acres of lush hillside on St Lucia's north western coast, Windjammer Landing is a Mediterranean style resort on a large crescent-shaped stretch of beach, boasting six swimming pools (two of them for kids), a selection of signature restaurants and bars, spa, fitness centre, watersports programmes and well-equipped kids club.  Not only did I receive the warmest welcome upon arrival but a complete sense of safety – the hotel has adapted incredibly well in ensuring that their guests remain safe and healthy – and their new protocols do not detract from a fulfilling holiday experience in the slightest.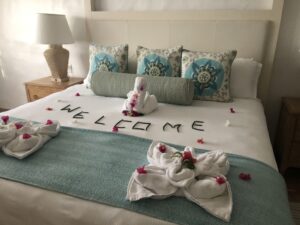 Throughout my stay, I had a great time working on the ground with the hotel and photoshoot team. Not only was it such a treat to feel the sand between my toes and sun on my back, but it was also wonderful to put the zoom screen down and work together in person! We enjoyed delicious dinners at the resort's Italian restaurant, Papa Don's (an easy favourite amongst guests), relaxed lunches at the beach deck, Embers, and I couldn't get over starting my day with breakfast at Dragonfly each morning – which boasts breathtaking views across the whole beach and Caribbean Sea – and you're often joined by a hummingbird for coffee!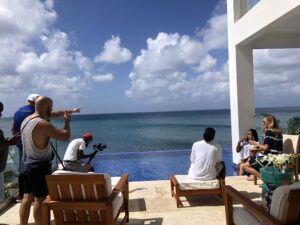 During my stay, I was lucky enough to experience a luxury treatment at the hotel spa – which provides the perfect tranquil setting to relax and rejuvenate whilst soaking up the picturesque surrounding. By boasting various treatments from the more traditional to modern rituals, 

the spa 

consists of four private treatment rooms, two couples suites, a private Japanese soaker tub and an outdoor shower. There is also a fresh herb garden and juice bar for guests to visit and enjoy throughout their stay.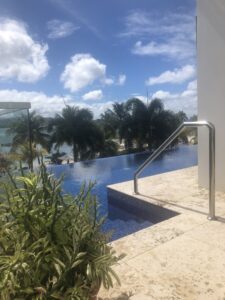 I also joined the models in a touch of stand-up paddle board yoga (far harder than it looks!) and we were treated to a boat trip to the Piton Mountains, a renowned landmark in St Lucia – and I can see why. A World Heritage Site, the Pitons are two vibrant, green volcanic hills that run beautifully into the calming blue waters. Here, I felt a real sense of calm and as we sailed our way back to the resort in the middle of a tropic thunderstorm (learning local St Lucian dances from the crew), Covid and everything it has brought with it couldn't have felt further away.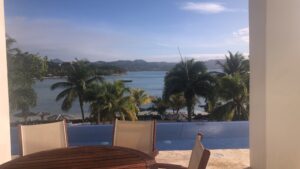 Windjammer Landing

offers so much to any visitor with a huge watersports offering, fitness centre, tennis, golf, family fun and romantic evenings… but over the last month I have realised how much it gave me. It goes without saying that the travel industry has been badly hit by the pandemic, but I now truly believe we do have the power to come back stronger than ever. At Windjammer there was no sense of a 'new normal' but simply a stronger sense of gratitude – I felt more fortunate than ever to experience a new destination, meet people from different cultures and have a chance to relax and unwind. That is exactly what travel offers and I think with our new perspective we will not only crave it more than before but appreciate it too when we get out there – which we will!