After weeks of constantly checking the FCO website and waiting with bated breath at every government briefing, it felt surreal to be stepping off the plane in Dalaman and heading to Hillside Beach Club this September. 
After months of "lockdown" in the UK, any international travel was likely to be exciting, however the gorgeous Hillside Beach Club surpassed expectations and was the perfect antidote to the stresses of previous months.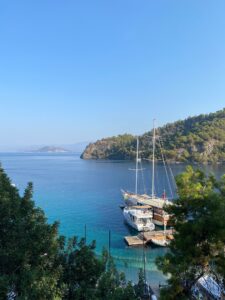 Set in Kalemya Bay, a secluded and private inlet just past Fethiye, the five-star resort is carved into the hillside with all the restaurants and guest rooms looking out across the sea. Feeling like a world within itself and offering everything you could need for a relaxing getaway, you'd be forgiven for not leaving the resort at all during your stay. Faced with what feels like an endless list of activities and experiences available at the resort, it can be overwhelming to know what to do first, so here's how I'd suggest spending a perfect couple of days at Hillside Beach Club. 
Start the day slowly (you're on holiday after all!) with a coffee on your private balcony as you take in the picturesque views across the bay and the water lapping on the beach below, before heading to the main restaurant for a breakfast of kings. For those on a health kick there's the wellness corner offering superfoods and nutritious dishes for a virtuous start to your day, and for the rest of us, there's everything imaginable – from fresh pastries and pancakes, to eggs and yoghurt, and everything in between. Spend the morning on the beach where carefully spaced sun loungers await with a dedicated team of friendly staff on hand to serve cocktails, coffee and light bites. Soak up the glorious sun before cooling down with a refreshing dip in the sea – with its calm waters, the sea is perfect for both confident swimmers and those who'd usually prefer the still waters of a pool, and the lack of waves even saw me having a go at kayaking during my stay!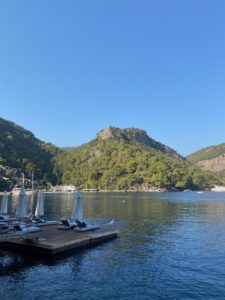 Following lunch at the Beach Bar & Restaurant, which serves an array of delicious lunch dishes, including fresh salads, grilled meats and pasta, it's time to get active – whether it's trying your hand at archery or wakeboarding, taking to the floor in a zumba class, or perfecting your swing on the tennis court, there's something for everyone. A highlight for me was the daily yoga sessions with Susie, which saw me alternate between morning classes on the resort's Silent Beach and evening sessions in the open-air studio. Her passionate and educational teaching rivals any classes I've previously been to and will leave you feeling challenged but relaxed and revitalised. After a sunset cocktail at the Blue Bar, where the expert bar team will make anything you fancy, head to Pasha on the Bay – a sleek, adults-only restaurant with beach club vibes which make you feel like you've just stepped into Ibiza or Mykonos. With its romantic candlelit setting (complete with waves lapping at your feet!), it's easy to forget you're in the middle of a resort here as you enjoy a series of Mediterranean dishes as you reflect from your blissful day.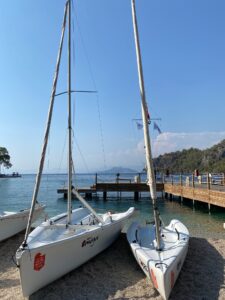 Following a highly recommended morning yoga session, head to the Sanda Nature Spa for an indulgent spa treatment. Set behind the Silent Beach, the spa is nestled amongst lush greenery and offers a secluded retreat for solo or couple treatments. Choose from a range of options, including full body massages, facials and body treatments, as you take in the sounds of the birds and surrounding nature. After reemerging with glowing skin or soothed limbs, enjoy a stroll across to Serenity Beach – a hidden adults-only cove which makes you feel like you've just stepped onto your own private island. Here you can spend the day reading your book, playing cards and swimming, interrupted only with drinks at the beach-shack-style bar. Finish the day with a truly memorable evening as you jump onboard the sunset boat trip (every Tuesday, Friday & Sunday) and discover the hidden bays surrounding Hillside with a glass of bubbly in hand. 
With its endless list of activities, kids clubs, adults-only facilities and array of restaurants & bars, Hillside Beach Club is the perfect destination for those looking for their next adventure.