With Afternoon Tea Week in full swing, we hand-picked a variety of our clients that are offering their own take on this quintessential pastime:
G&V Royal Mile Hotel Edinburgh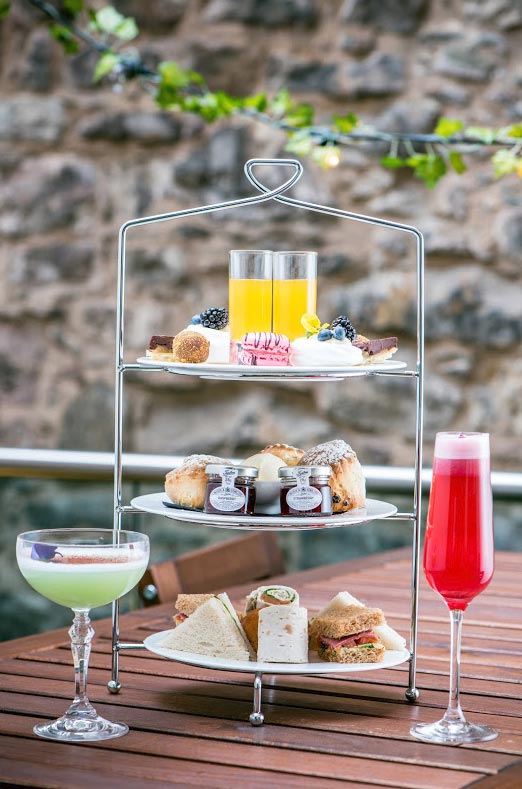 Perfectly positioned at the corner of George IV Bridge and the Royal Mile, just steps from Edinburgh Castle, G&V Royal Mile Hotel Edinburgh is in the heart of Edinburgh. Afternoon Tea is served in the striking Cucina restaurant or on the outdoor terrace in fair weather. The Chef's unique take on this British tradition includes cucumber gazpacho, chamomile tea sorbet, honeycomb truffle and Negroni jelly!
Traditional Afternoon Tea from £22.50 per person or with a choice of cocktail for £29.50.
Visit https://www.quorvuscollection.com/en/gandv-hotel-edinburgh for further information and booking
La Suite West, Hyde Park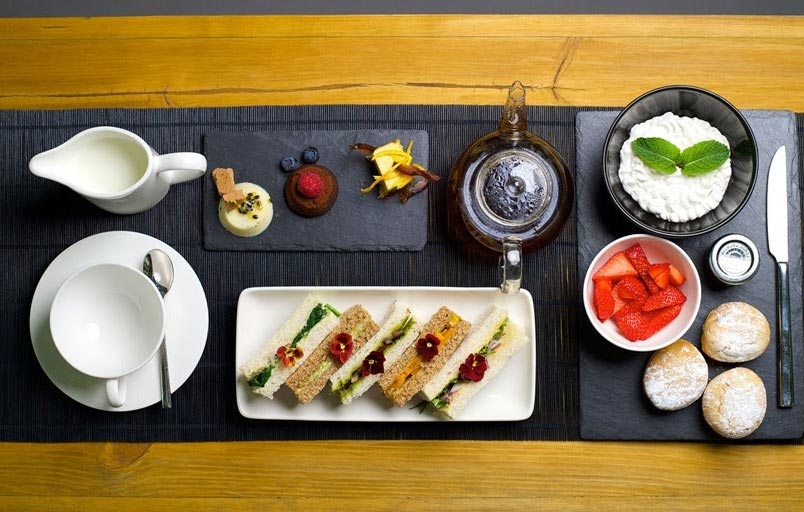 La Suite West is delighted to celebrate Afternoon Tea Week with a special collaboration with AfternoonTea.co.uk. La Suite West's NEW Nosh Garden Kitchen is the perfect place to celebrate the annual Afternoon Tea Week with an indulgent but healthy Afternoon Tea in the hotel's beautiful garden terrace.  For the duration of Afternoon Tea Week and for the whole of August, La Suite West will be offering 25% off their quintessentially contemporary vegan alternative to this Great British Tradition every day from 12pm. Featuring a fashionable and central venue near London's Hyde Park, Portobello Road Market, Notting Hill and Kensington Palace Gardens, the newly launched Nosh Garden Kitchen features a selection of superfoods and products free from additives, eggs, dairy,  gluten and high in vitamin content. The vegan Afternoon Tea offers a selection of raw and plant based dining options, with a combination of designer finger sandwiches, crusty home-made scones served with light and creamy whipped coconut cream and fresh strawberries, to a selection of home-made pastries. This will of course be accompanied by a bubbling glass of non-alcoholic fizz and a selection of fine JING Teas.
Vegan Afternoon Tea from £21.75 per person.
Visit afternoontea.co.uk for further information and booking
Offer subject to availability. Not to be used in conjunction with any other offer. Valid 1st – 31st August
Hotel Gotham, Manchester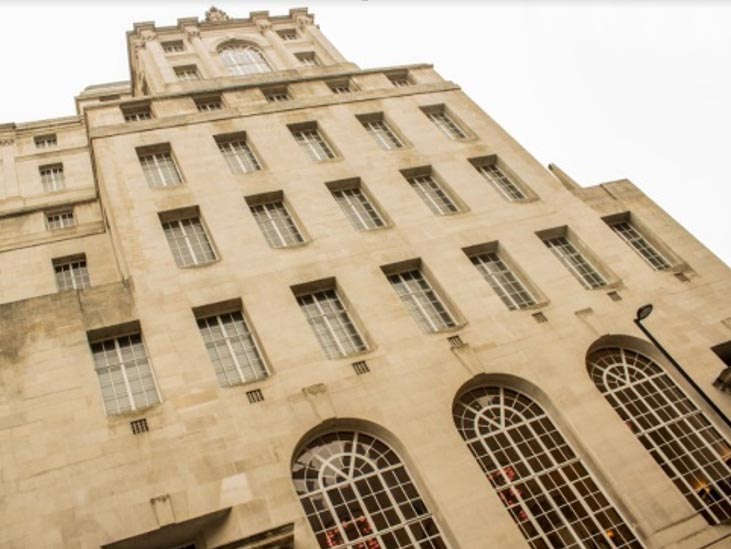 The stunning art deco façade of luxury 5-star boutique Hotel Gotham, situated at the centre of mid-town Manchester, is one of the city's grandest buildings. A former bank premises dubbed the 'King of King street' due to its grandeur and castle-like design, guests are greeted by glamorous, Manhattan-inspired interiors, housing 60 luxurious rooms and suites. The hotel also boasts Club Brass, a private roof-top bar with panoramic views over the city, as well as Honey, the two AA rosette restaurant serving contemporary British cuisine. Those looking to indulge in signature Gotham style can book an afternoon tea at the hotel's Honey restaurant for an exciting dining experience. Guests will be served a delicious selection of homemade cakes and sandwiches, handmade scones with local jams, as well as a selection of freshly brewed coffee or speciality teas.
Afternoon Tea from £25 per person.
Visit www.hotelgotham.co.uk for further information and booking
Dorsett Shepherds Bush, London
Located in the heart of vibrant West London on Shepherds Bush Green, Dorsett Shepherds Bush is a Grade II listed building with 317 luxurious rooms, featuring Chinese-inspired interiors. There are plenty of fine dining options available, and one of the best ways to spend an afternoon at Dorsett Shepherds Bush is with the scrumptious Dorsett Classic Afternoon tea, available daily. Served under the striking golden atrium of Jin bar, Dorsett hosts an offering of superb appetising savoury and sweet delights and selection of leaf teas. The Sparkling Afternoon tea includes a delicious glass of Prosecco, and when celebrations are in order, the Celebration Afternoon Tea is the perfect choice, which includes a glass of Jacquart champagne and a special celebration cake delivered to the table, ideal for any occasion.
Dorsett Classic Afternoon tea £24 per person, Sparkling Afternoon Tea £30.50 per person and Celebration Afternoon Tea £40.50 per person.
Visit www.dorsetthotel.com for further information and booking
The Chester Grosvenor, Cheshire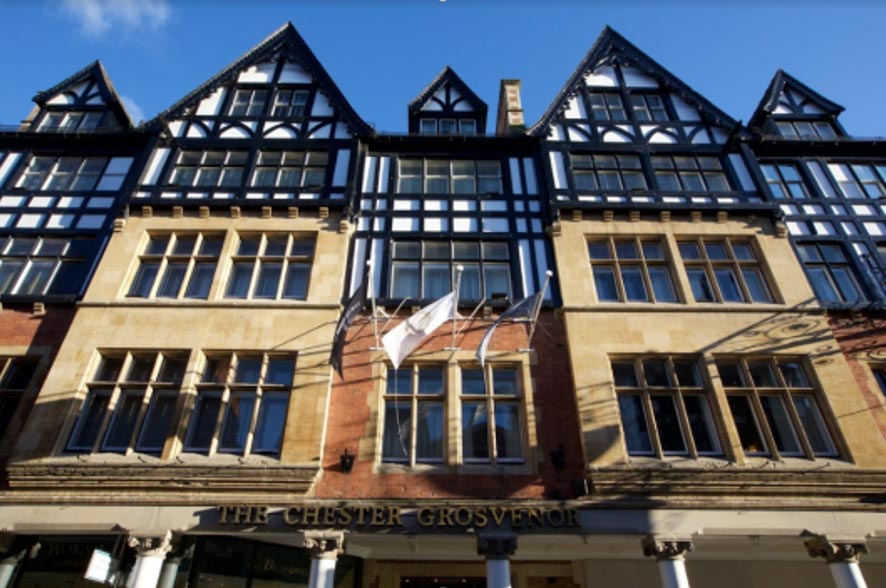 Situated in Chester on one of Britain's prettiest streets, The Chester Grosvenor is steeped in historical charm. A striking Grade II listed building with traditional black and white timbered exterior, there are 68 contemporary bedrooms and luxurious suites to choose from, alongside a wonderfully peaceful spa centre and the award-winning restaurants; the Michelin-starred 'Simon Radley at The Chester Grosvenor', the luxurious yet relaxed La Brasserie restaurant, and Arkle Bar and Lounge. For sophisticated Gentlemen, The Arkle Bar and Lounge hosts afternoon tea with a distinctive masculine slant, with hearty fare and strong tea replacing traditional delicate French pastries and tiny sandwiches, prepared by The Chester Grosvenor's award-winning chefs.
Gentleman's Afternoon Tea £32 per person, Gentleman's Indulgent Afternoon tea £45 per person.
Visit www.chestergrosvenor.com for further information and booking
The Gainsborough Bath Spa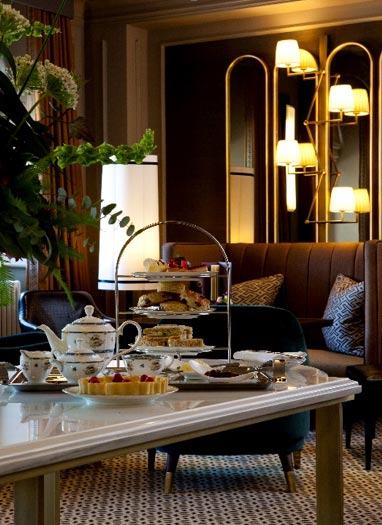 A quintessentially English, 99-room hotel set in the heart of Bath, The Gainsborough Bath Spa is the ideal spot to enjoy afternoon tea. Taking place in the elegantly styled Canvas Room, guests can unwind in sophisticated yet cosy surroundings and sample a traditional menu of scrumptious homemade sandwiches, freshly baked plain or raisin scones with a selection of tasty preserves and clotted cream and an assortment of delicious cakes and pastries. Guests can even celebrate the occasion with a choice of Champagnes, including the exclusive Sommelier selected Billecart-Salmon, which is guaranteed to add a sparkle to the afternoon.
Classic Afternoon Teas from £30 per person, Champagne Afternoon teas at £46 per person.
Visit http://www.thegainsboroughbathspa.co.uk/ for further information and booking
Conrad Dublin, Ireland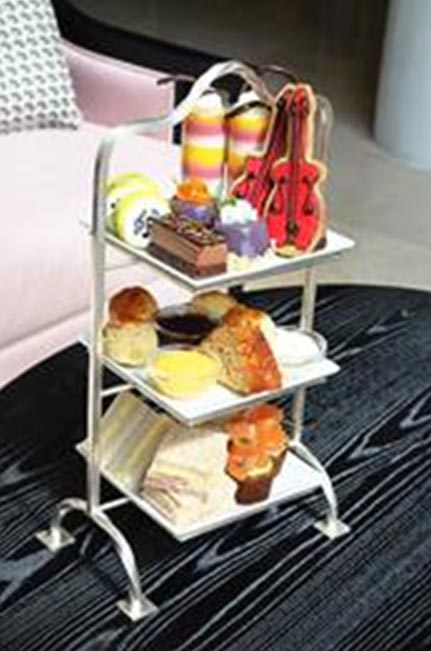 The team at Conrad Dublin are delighted to introduce their new Musically Inspired Afternoon Tea which will be hosted seven days a week within the contemporary surrounds of Lemuel's Lounge. The Afternoon Tea includes a delicious array of freshly baked cakes, pastries and scones as well as gourmet sandwiches designed by new Pastry Chef Brizaida Hernandez, served with freshly brewed tea or coffee. This quintessential British pastime has been given a twist as the hotel pays homage to it neighbours, The National Concert Hall offering an experience to satisfy all tastes. The menu includes a new musically inspired selection of culinary delights including Burren smoked salmon, avocado purée, caper berry sandwiches on Guinness bread, exotic creamy coconut, lime and mango macaroons and a 'Chocolate symphony' ganache amongst many others.
Musically Inspired Afternoon Tea will run until the 30th September 2017 and costs €60 for two (approx. £55).
Customers are invited to book their table before August 31st and quote #MUSIC.
Ballygally Castle, Northern Ireland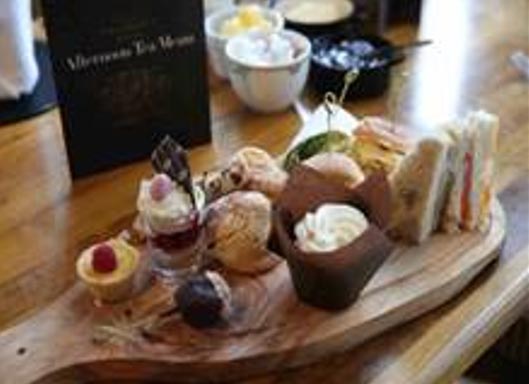 With much of the filming of the Game of Thrones series taking place in Belfast and across various locations in Northern Ireland, their fabulous Ballygally Castle is ideally located to explore the Game of Thrones® filming locations and channel your favourite characters. In addition, Ballygally offers a very popular Game of Thrones inspired Afternoon Tea, sure to delight fans as well as those who love the indulgence of a delicious afternoon tea! The delectable treats, inspired by the fantasy lands of Winterfell, Iron Islands, Kings Landing or Stormlands, include Lannister egg Rolls, Baratheon Bread, Little Finger Chicken Caesar wraps, Jon Snow Cakes and Dothraki Trifle with mini Dragon's eggs!
Game of Thrones Afternoon Tea from £22 per person.
Visit http://www.hastingshotels.com/ballygally-castle/ for further information and booking
Dukes London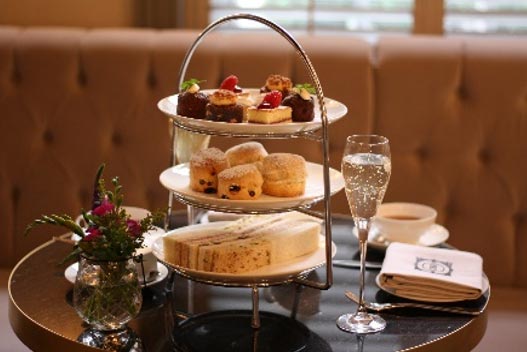 DUKES LONDON's recently opened Great British Restaurant, GBR, is the perfect place to celebrate Afternoon Tea Week. The quintessentially British hotel launched GBR in May, and offers guests the finest traditional and contemporary British dishes in a striking and vibrant space in the heart of Mayfair. Those celebrating Afternoon Tea Week can enjoy a delicious array of savoury sandwiches, from baked gammon and tomato chutney to traditional coronation chicken and cucumber with cream cheese. Savouries are followed by a selection of sweet treats and indulgent homemade traditional and golden sultana scones, all to be enjoyed with a variety of teas, from a classic Breakfast Blend to Jasmine Pearls or Nile Chamomile. Guests wishing to spoil themselves further can opt for the 'GBR' Afternoon Tea which comes with a glass of Perrier-Jouët Champagne.
'Classic' Afternoon Tea from £32.50 per person and the 'GBR' Afternoon Tea from £42.50 per person.
Visit https://www.dukeshotel.com/ for further information and booking
Dukes Dubai, United Arab Emirates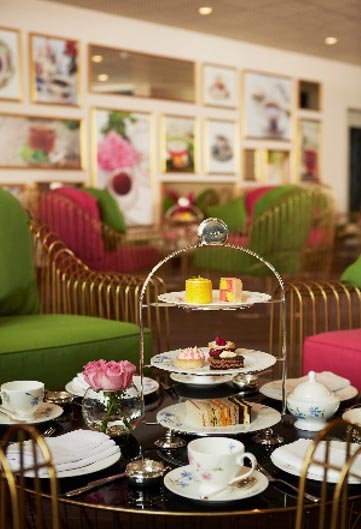 DUKES DUBAI offers guests the opportunity to treat themselves to a scrumptious high tea in the new hotel's oh-so-British Tea Lounge on Dubai's Palm Jumeriah. Guests can enjoy a heavenly selection of sandwiches accompanied by handmade pastries and scones with clotted cream and jam, as well as delicately flavoured tea, handpicked and blended from the choicest of tea estates from around the world. Enjoy your afternoon tea whilst overlooking the Arabian Gulf and relax in DUKES DUBAI's stylish Tea Lounge, scented with fresh English roses for a home-from-home experience like no other!
Afternoon Tea from  170 AED/  £35 per person and with a glass of Tattinger Champagne from 320 AED/ (approx. £67).
Visit https://www.dukesdubai.com/ for further information and booking