Unwind with your partner and experience the best of the South of France.  We're not talking about yachting through St Tropez, but indulging in the peace and quiet of Provence, where culture and nature come together in romantic harmony. Whether you are looking for a winter getaway enhanced with a château Christmas or planning ahead for the warmer months, there is no better setting for romance to flourish than that of provincial France.
While most couples look to the Alps this Christmas, why not swap chalet for château and immerse yourself in the calm of Château De Montcaud.  A hotel where modern comfort is blended with sleek elegance and nature is your playground. From fragrant herb gardens to plant perfumeries, days are filled with the most delicious sensory experiences – the perfect way to celebrate a special occasion and escape the everyday.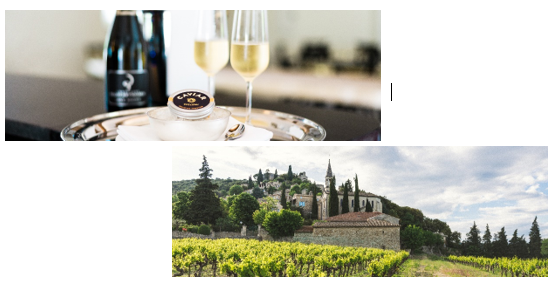 For those looking to avoid mounting dishes and overcrowded living rooms, Château Montcaud is offering an oasis of festive tranquillity this year.  With a classical concert in the evening and dinner at gourmet restaurant Le Cèdre de Montcaud. Chef Matthieu Hervé has designed an exclusive four-course Christmas menu with all the trimmings, so you know you're experiencing every festivity with a touch of luxury. The Château was built in the 19th century and is surrounded by a five-hectare park. Whether you choose to spend your time walking, swimming or truffle hunting, this idyllic pocket of France gives every opportunity for romance to blossom.

In similar spirits the village of Crillon Le brave in Provence is a stunning setting to retreat to with your other half.  Whether you also wish to escape the hectic Christmas season, or visit in the summer, there is no better place to experience the luxury of simplicity. To accommodate any pair with a tendency to explore, Hotel Crillon Le Brave offer a 'Wandering around Provence' package that enables you to admire breath-taking landscapes of neighbouring Gordes, stroll around the Sorgue river at Fontaine de Vaucluse and admire architectural marvels.

The charm of Crillon Le Brave is unparalleled.  Located about 25 miles north – east of Avignon at the foot of Mont Ventoux, the hotel sits idyllically on a hilltop overlooking views of provincial countryside, where a kaleidoscope of vibrant green fields meets impressive mountainside, blurring into one panoramic spectacle. Enjoy a relaxing and healthy Provencal break, be it honey moon or otherwise, in this intimate 32-bedroom hotel surrounded by vineyards and olive groves.  A former country house to a Parisian family, the property is seeped in history and offers every opportunity for you to float back in time and unwind in this historic property together.  Next year Hotel Crillon Le Brave are putting together a romance bundle, with every dreamy detail considered, from a beautiful bouquet on arrival to a tandem bicycle equipped with a picnic hamper.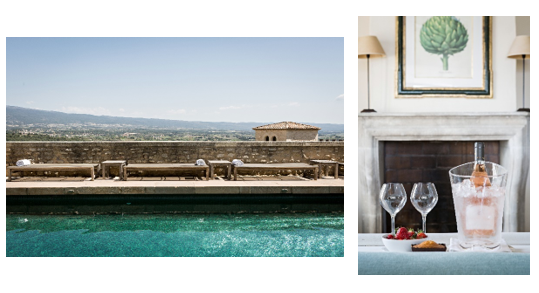 Outside of the hotel, the charming town is the epitome of French provincial magic. Picture a romantic stroll through aromatic lavender fields and wine tasting like you've never done before, or for art lovers there are 1001 artworks in the museums of Provence. The chef at Hotel Crillon Le Brave specialises in bringing health and positivity to all her culinary exploits, with  local food including Mazan Asparagus, Ventoux truffles or Alpilles lamb.