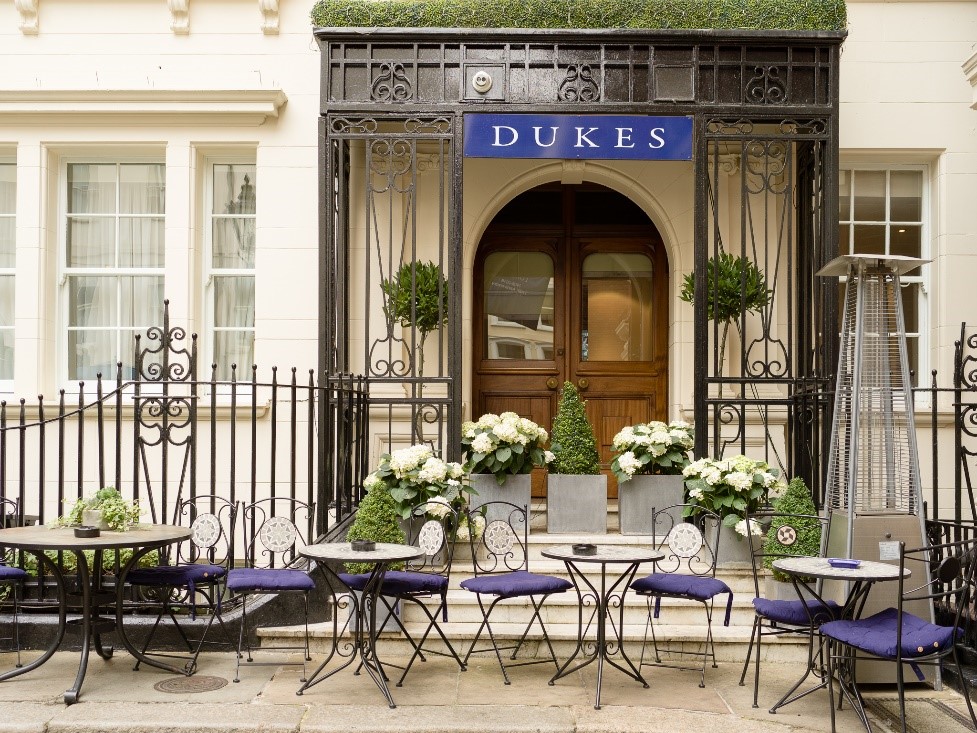 The Grifco team were delighted to be invited to experience a night's stay at the marvellous DUKES LONDON in Mayfair this week. Tucked away in a quiet road in the heart of St. James', the hotel oozes elegance, grandeur and quintessential British charm.
Upon arrival at the hotel, we had some time to drop off our bags and freshen up for an evening of delicious food and delectable DUKES martinis. In our room, we were greeted with a tasty welcome treat.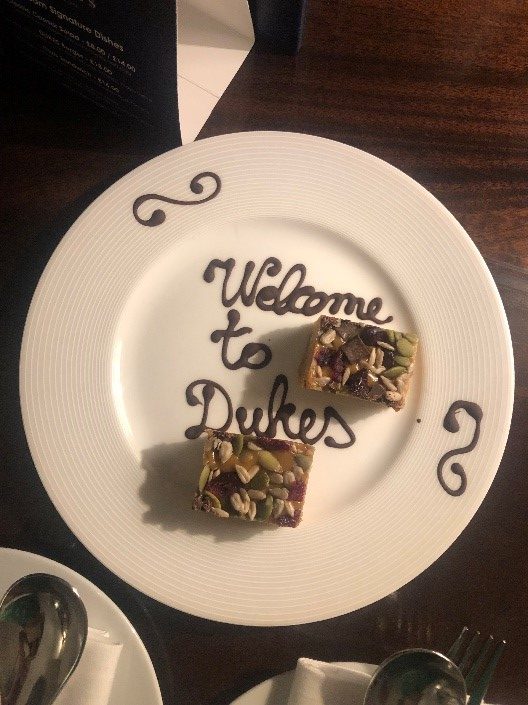 Shortly afterwards, we took the lift downstairs – kitted out with a plush velvet sofa and cushions – and we were shown to the notorious DUKES Bar. Once we were settled at our table, which had a range of nibbles including nuts, crisps, and plump green olives, the hotel staff kindly shared some interesting facts about the bar. For example, DUKES Bar was the first bar in the UK to have a drinks trolley – and they still use one – and it is also one of very few bars that plays no music. Instead there is a gentle hum of people quietly chatting and sipping their drinks.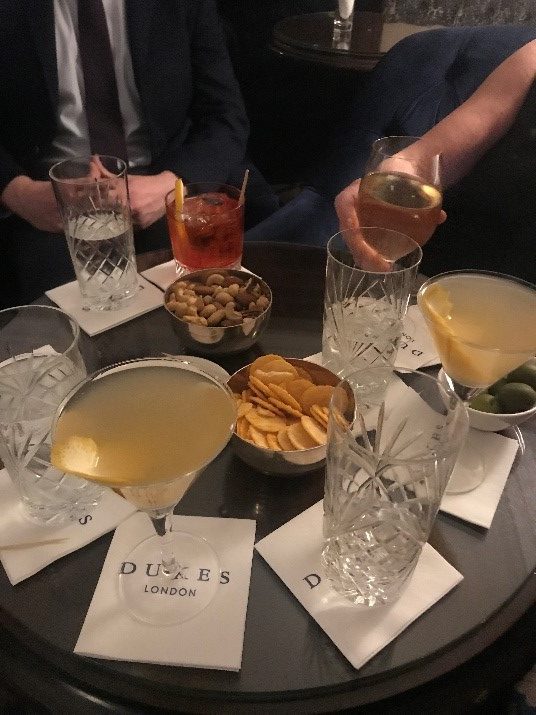 After the waiter shared his recommendations, we each ordered one of the famed DUKES Martinis. I went for a Tiger Tanaka, which was infused with ginger and orange peel, while others went for the DUKES Vesper, infused with Angostura bitters. Soon after ordering, a trolley arrived with martini glasses that had been kept in the freezer for 2 days at minus 22 degrees and the waiter proceeded with an impressive free pouring display while talking us through each of the ingredients.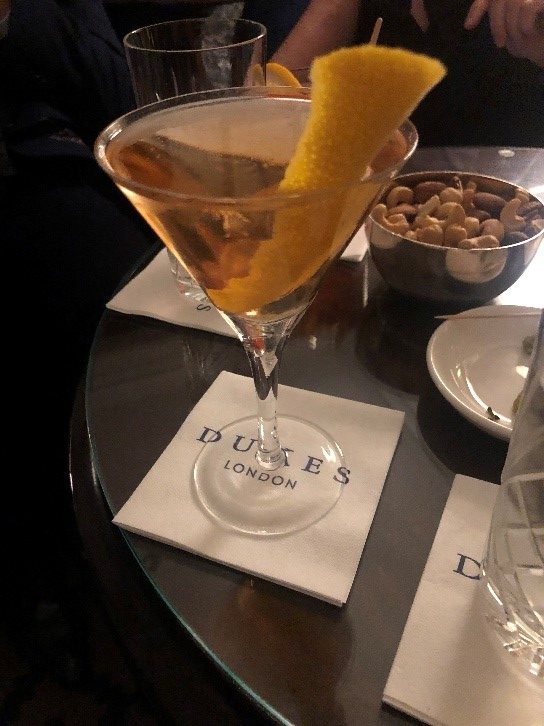 After our martinis, we were shown to DUKES LONDON's restaurant GBR (Great British Restaurant) where we opted for a starter of Charlestown Mussels, and I chose the Chalk Stream Trout for my main. These were both absolutely delicious and our service through the meal was superb, the waiters were professional, attentive, chatty and made us feel very welcome. We shared a delicious chocolate brownie for dessert and then headed to back to our Deluxe room.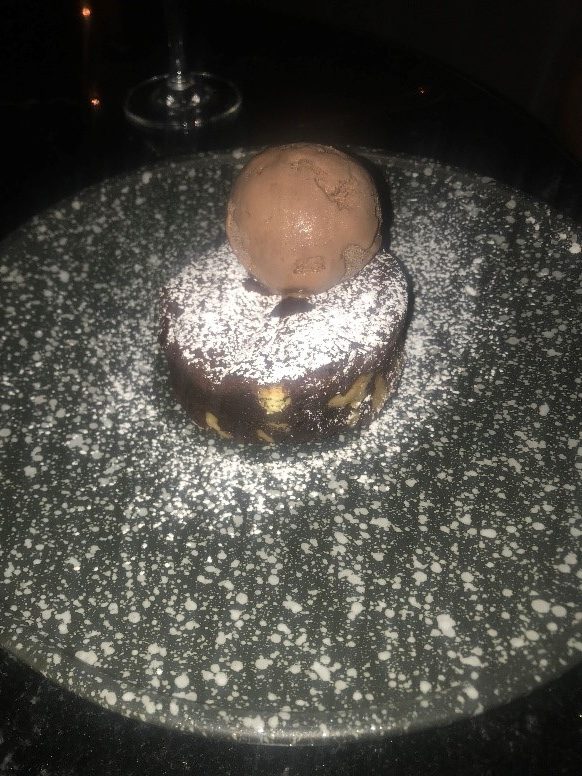 Our room was spacious, elegant and homely with the fluffiest of towels, dressing gowns and slippers. The beds were exceptionally comfortable and after a long evening of martinis and exquisite food, I fell asleep as soon as my head hit the pillow.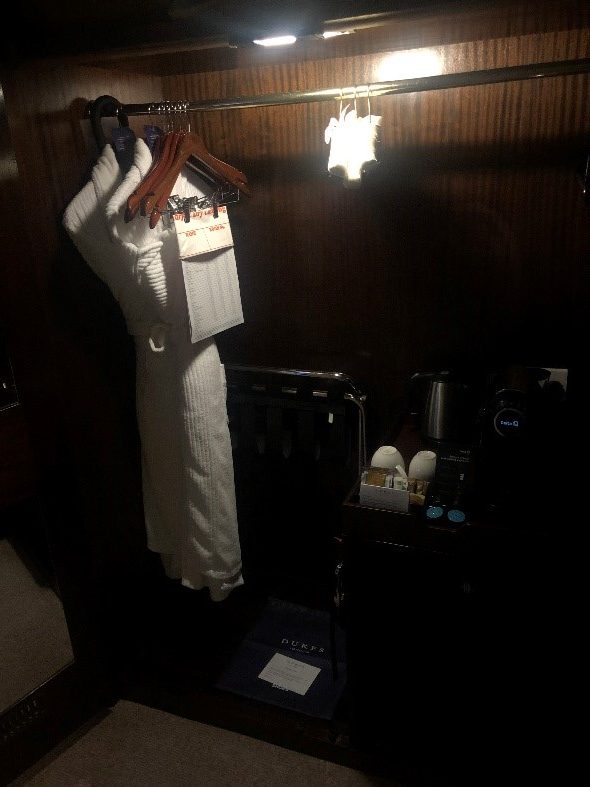 In the morning, I woke up and made an espresso using the coffee machine in the room, before getting ready and heading downstairs for breakfast at GBR. Breakfast included a range of options, from waffles to a full English, or the continental buffet where guests could opt for a lighter option of berries, yoghurt, breads and cheeses. I had perfectly poached Eggs Florentine and a glass of freshly squeezed orange juice.
Our visit to DUKES LONDON and GBR was truly a testament to the service and experience you can expect at such an acclaimed hotel and restaurant, with a few unexpected treats along the way. Many thanks to DUKES LONDON and GBR for hosting us for such a magnificent evening and night's sleep!