Being an Australian living in London, I never thought I would have the opportunity to visit and enjoy Abu Dhabi and Dubai as a destination. For me, it was always that stop over place where you would spend time at the airport until the next long-haul flight. In September, I was lucky enough to take a mixed group of journalists and influencers to make the most of the Middle East with Radisson Blu .
It all started at London Heathrow Airport, stepping aboard Etihad Airways and being personally greeted by the Cabin Manager. Our flight was very comfortable and we took the late-night flight, so we could arrive in Abu Dhabi bright and early to start our adventure. When we arrived at Abu Dhabi airport, we were kindly greeted by Hala Abu Dhabi and given a guided tour on the way to our hotel – Radisson Blu Hotel, Abu Dhabi Yas Island.
With a fresh juice in hand, we were escorted to our rooms to discover stunning views across the golf course and Yas Island. Following a big breakfast (the best breakfast I have ever had) we kicked off with our itinerary experiencing a mix of art, culture, food and adventure.
Abu Dhabi 
Lunch at Amerigos – the cuisine in Abu Dhabi and Dubai is very international. If you are a fan of delicious Mexican food, I highly recommend you visit Amerigos at Radisson Blu Hotel, Abu Dhabi Yas Island
Louvre, Abu Dhabi – the museum opened in November 2017 and has the most incredible architecture, very minimal and futuristic, a dream destination for photographers
Sheikh Zayed Mosque – I recommend visiting Sheikh Zayed Mosque in the late afternoon to catch the sunset, it was breath-taking
Hala Abu Dhabi – this is organised through Etihad Airways, they take tours around Abu Dhabi to show you new developments, the history, parliament and local cuisine. It is a great way to get your bearings.
Kayaking at the Mangroves – this was with a lovely company called Noukhada Adventure Company, they can take you through the mangroves at sunset with Abu Dhabi's skyline as your backdrop
Dinner at Filini Garden –   located at Radisson Blu Hotel, Abu Dhabi Yas Island, it is an open-air Italian restaurant and lounge serving up delectable small plates of food that are the perfect accompaniment to be enjoyed with haute-couture cocktails inspired by Italy's most celebrated fashion designers

Dubai 
World's Longest Zipline – after checking in at Radisson Blu Hotel, Dubai Waterfront, we travelled to the UAE's highest mountain – Jebel Jais to experience Jebel Jais Flight zipline. It is really quite a height, measuring over 1.7 miles long; this was organised with Visit Ras Al Khaimah and Toroverde
Ballooning UAE & Desert Adventures– this was a favourite activity amongst the group, it started with a 4am wake-up call but it is totally worth it; this can be arranged through a company called Platinum Heritage. You experience the Dubai Desert via hot air balloon to watch the sunrise followed by breakfast in the desert and a wildlife drive via a vintage Land Rover
Backyard brunch at Fire Lake – Friday afternoons in Dubai is all about the brunch, be prepared to wine and dine all afternoon. Fire Lake at Radisson Blu Hotel, Dubai Waterfront has just launched backyard brunch on the terrace looking out to the Burj Khalifa
Dubai Frame – a viewing platform designed as a real life, ginormous picture frame. You don't need much time here, however the Dubai Frame is totally worth a visit so you can see old Dubai and new Dubai
Lunch at Aseelah – for a traditional taste of the Middle East I recommend booking lunch at Aseelah, which is located at Radisson Blu Hotel, Dubai Deira Creek in the old part of Dubai
Burj Khalifa & Fountains –Make sure you take a visit to the Burj at sunset! Then head over to The Dubai Mall to watch the fountains, there is a new boardwalk there, which is a great place to sit back and watch as the water flies high up into the air
Spice Souq Tour – I went here in my free time and loved exploring the lane-ways with all the different herbs and spices.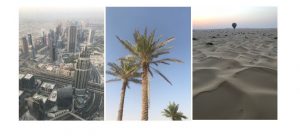 What to pack
Abu Dhabi and Dubai are extremely hot. For the ladies, Boho Chic is the answer. Think long dresses, a pair of sandals and a straw hat. For the gentleman shorts and t-shirts, however do pack a pair of trousers. Bring comfortable active wear for the more adventurous excursions.
How to get there
Etihad Airways has direct flights from London Heathrow to Abu Dhabi. Hala Travels can be booked for transfers and will give you a friendly rundown on the local culture, currency and info needed to get your bearings.
Where to stay
Enjoy winter sun at Radisson Blu Hotel, Abu Dhabi Yas Island, a resort located only 20 minutes' drive from the Abu Dhabi airport. Great for families as it has an adventure park and F1 raceway nearby.
Radisson Blu Hotel, Dubai Waterfront is a stylish hotel offering sophistication and elegance, perfect for business and leisure travellers wanting to stay in style and discover Dubai.
Highlights on Instagram
Check out the journey on Grifco PR's story highlights – @GrifcoPR