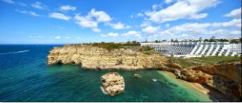 This month I was lucky enough to visit Tivoli Carvoeiro on Portugal's Algarve coast and a short stay was enough to show me that it has all the ingredients for a trip that ticks all the boxes- and more!
Here are just a few reasons to put it on your "to-go" list…
Off-season sun – with an average of 300 days of sunshine a year, the Algarve is the ideal destination for sun seekers looking to soak up some vitamin D before winter really sets in. Tivoli Carvoeiro's iconic circular outdoor pool offers the perfect place to catch some rays on a comfortable sun lounger, refreshing drink in hand, or pop down to the secluded cove to feel the sand between your toes and enjoy the sound of the waves gently lapping the shore.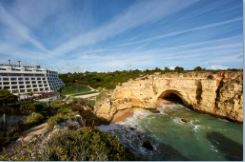 Things to do- for those looking for an active break the Algarve doesn't disappoint. Adrenaline junkies can try surfing, scuba diving or mountain biking, while those looking for a more gentle day out can enjoy boat trips and coastal walks, all of which can be organised by Tivoli's knowledgable team. Don't fear- if your idea of a holiday is complete R&R the hotel's gorgeous pool overlooking a quintessential cove is an idyllic backdrop or perhaps treat yourself to some serious pampering with an indulgent massage or facial in the spa… pure bliss!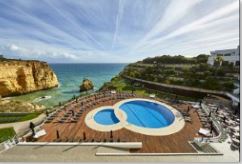 A foodie haven- with savoury sardines, sweet custard tarts, fresh fish and more, Portugal is firmly on the foodie map and has something for every palette. Those staying at Tivoli Carvoeiro can look forward to delicious local and international dishes in the hotel's three restaurants, with many more just a short stroll away in the town of Carvoeiro. Don't miss the chance to try a creative cocktail or glass of local wine or port while watching the sun go down from the hotel's rooftop Sky Bar- THE place for sundowners and after-dinner drinks in Carvoeiro!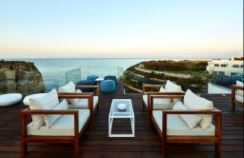 Stunning scenery – from rugged mountainous terrain to golden sandy beaches, crystal clear waters, cute coves and caves and impressive coastal arches and rock formations – Portugal's views just keep on giving. Nestled in a quiet cove, Tivoli Carvoeiro makes the most of its enviable location and you can enjoy impressive panoramic vistas throughout the hotel, from the bedroom, beach or breakfast terrace- it's an Instagrammer's dream!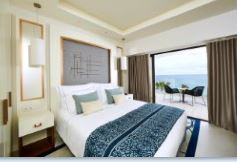 Easy to get to – with multiple affordable flights a day from several U.K. Airports to Faro, The Algarve is just a short flight away, making it super easy to get to. Those pushed for time needn't worry as Tivoli Carvoeiro is an easy 45-min drive from Faro airport, making it a hassle- free option for a long weekend break. If you've got longer why not spend a few nights at each Tivoli hotel for the ultimate Algarve experience?! Options include The Residences at Victoria Algarve, Tivoli Lagos Algarve Hotel, Tivoli Marina Portimao Algarve Hotel and Tivoli Vilamoura Algarve Resort.
I hope this has given you some inspiration and another gorgeous destination & hotel to add to your travel wish list!
For more information visit www.minorhotels.com/en/tivoli/tivoli-carvoeiro