The Grifco team were lucky enough to be invited to the premiere of Judi Dench's Wild Borneo Adventure, a new two-part series, which is due to air for the first time on ITV at 9pm on Tuesday 2nd July.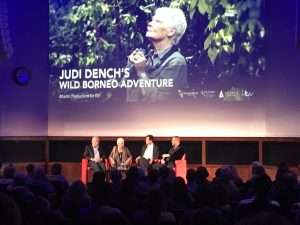 The new documentary series sees national treasure, Dame Judi Dench explore Borneo, the world's third largest island, meet its enchanting animals and learn how important wildlife is to life on our planet.
In the second episode, on 9th July, Dame Judi visits Gaya Island Resort, where she explores the wonderful marine life off the shores of the tropical island and experiences the 7 wonders of Gaya- including the distinctive long-nosed Proboscis Monkeys!

The premiere at The Royal Geographic Society gave us a sneak peek at what viewers have to look forward to seeing on screen, including the unflappable Dame Judi on a night-time boat journey plucking young crocodiles from the river and being hoisted up into the rainforest canopy.
Dame Judi also took to the stage with her chap, conservationist David Mills, to answer questions about her experience in Borneo, which she describes as one she will never forget.

Charming and funny throughout, Dame Judi brings the magic of Borneo to our screens and we can't wait to tune in to find out more!
Find out more about Gaya Island Resort and the stunning wildlife guests can experience for themselves just like Dame Judi here: https://www.gayaislandresort.com/our-story.html