Visit a High-Altitude Winery, Paraglide, Rapid Ride, Bike Tour and More… 
Italian Hospitality Collection's Le Massif, Courmayeur, is unveiling an exciting array of new packages for guests looking to experience an unforgettable summer holiday in the Alps. The luxurious five-star ski hotel, set afoot Mont Blanc, is offering a wealth of exhilarating and diverse activities for groups and families to choose from. From adrenaline junkies in search of their next high-altitude hit, to wine fanatics looking to indulge in a glass of tipple 3,500 metres in the sky, and families in pursuit of a fun way to get fit, Le Massif will cater to all guests' preferences this summer.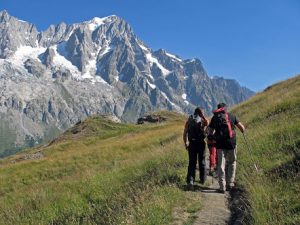 The four new package experiences include:
Skyway Monte Bianco Experience
Those looking to be blown away can arrange a trip to Pointe Helbronner's spectacular viewing platform which offers breath-taking 360-degree views of the Alps' magical mountain tops. The Skyway Monte Bianco – a state-of-the-art cable car – will take guests on a mighty 3,466-meter climb, stopping at Pavillon du Mont Fréty's alpine botanical garden and experimental high-altitude winery, the only one in the Alps that produces wine 3,500 meters up a mountain. Guests can expect to end the enchanting experience with a visit to Pointe Helbronner's crystal exhibition, where a vast collection of beautiful and striking minerals, rocks and crystals are being showcased.
Paragliding Experience
Thrill seekers who book the paragliding experience will be provided with step-by-step preparation led by an expert team, before setting off from the mountain-side.  Amongst the peaks, guests will delight in incredible views of the undulating valleys below that only eagles, and larger birds of prey, can.
Rapid Riding Experience
After thorough paddling instruction and trials in calm water, adventurous families and groups can enjoy a rapid riding experience, where an expert river guide will lead the adrenaline-filled journey down the rapids, powering through the magnificent mountain gorges.
Cycling Tour Experience
Cycling enthusiasts will relish in Le Massif's half-day bike tours and medley of cycling routes nearby. Tailored to all fitness levels, ranging from beginning and intermediate through to advanced, guests of all ages and abilities will have the chance to enjoy a day amongst some of the most picturesque valleys in the world, including Val Veny and Val Ferret.