Travelling to and in the kingdom of Georgia smacks of travelling three decades ago: the last flight from a deserted UK airport, a 2 x 2- seat plane with armrests that refuse to stay up, walking blearily into a foreign arrivals hall at the crack of dawn having lost a night's sleep, to find our luggage already unloaded and waiting, with a smiling driver waiting…..
First impressions? Street-sweepers in the morning light primp all roads leading into Tbilisi, there is a jumble of washing-line telegraph wires, the curve of a wide river, and those iconic villas clinging to the capital's hill – their wooden balconies designed to throw the rooms behind into cool shadow.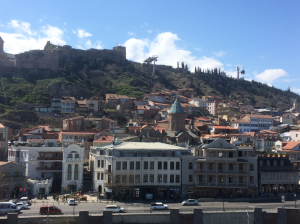 Tbilisi is centuries-layered in rich history but there is also modern – the Radisson Blu towering over the Kura river, the ugly new bridge, alongside the old: the statuesque men on horses, churches stuffed edge to edge with gleaming icons, the thirteenth-century sulphur baths with their pepper-pot domed roofs.  In the old town, the streets are punctuated with carpet sellers, stalls touting old Soviet paperbacks with faded spines, and trolleys with mounds of oranges. The pomegranate is king and the gutters are sequined with discarded seeds, glinting garnet. There are wonky old towers covered in a mosaic of hand-painted tiles and – everywhere – the old brickwork that defines Georgia: dark terracotta rectangles just an inch thick, set horizontally, vertically and at oblique angles, stiffening structures and creating characteristic texture.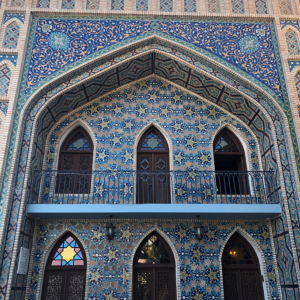 Breakfast at Radisson Blu is world-beating: fresh cherry juice, local honey, cheeses, curds and yogurts, dried fruits, nuts and seeds; warm circles of Georgian flatbreads with cheese baked at their hearts, alongside the usual international spread that, honestly, it would be criminal to prefer – and coffee which is surprisingly dull and machine-delivered. It's an introduction to a Georgian leitmotif: food here dominates the day in baffling quantities and all of it looks as good as it tastes. Lunch and dinner last for hours, with nothing resembling a course – dishes of vegetable pastes, meat stews and grills, roast piglets and offal with cheese, pickles and breads – dishes that tumble on and on, harmonised with wines each as different as the food, and with much conversation and laughter.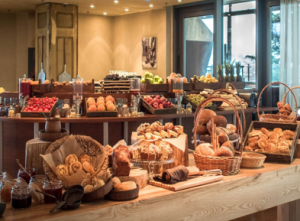 Theatricality, like the big dramatic skies, is part of the Georgian way. At Radisson Collection Tsinandali Estate – about 2 hours outside Tbilisi through the Caucasus foothills and in the heart of Georgia's most famous wine region, Khaketi – our dinners are set in cavernous old wine cellars hidden behind massive secretly swinging doors, or at long, high tables with dozens of candles suspended from the roof. Hogwarts meets antiquity.  And don't get me started on the polyphony: heart-bursting, harmonious, unaccompanied male voice singing that has the hairs standing up on one's forearms.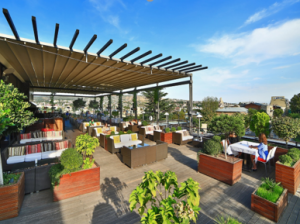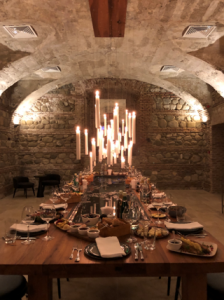 Did I mention the monasteries? The light? The promise of almond blossom? Salty BBQ'd pork kebabs in the vineyards? The wines fermented naturally without sulphates, sugars or yeast so that hangovers just don't happen?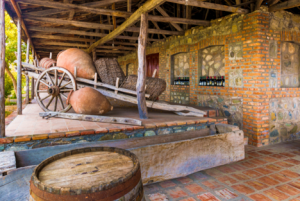 Radisson Collection Tsinandali Estate is an old nineteenth century wine building blended with a brutal modern structure, softened by a living wall – a pretty ideal parallel to a country that has a distinct frontier feel.  This crucible of European settlement is defined as much by its cathedrals as its concrete, by the rapier cold March winds that funnel along the Caucasus corridor as well as the warm hospitality that holds every stranger to be a gift from God.  Here are fertile plains and smooth old wines, there are cracked Soviet tenements. The country promises skiing, hiking, beaches and plenty in between, yet there are few tourists.  No one makes good coffee and tea comes without milk (asking for it raises eyebrows and causes consternation and confusion). Just four hours' flight from London, Georgia is characterised by contradictions and full of unanswered questions, gentleness, and inventiveness: a rare combination that makes it richly ripe for discovery.