There have been many great unifiers during the lockdowns of 2020/2021.  Captain Tom Moore, clapping for the NHS, zoom party hangovers, long walks to nowhere, terrific and terrible television… but there is one entity,  I think, that rises above them all. Yes, you guessed it, food.   Here at Grifco we don't just love travel for the memories, connections and life lessons it feeds us but the actual yummy stuff too.   
So,  after months gazing longingly at trips gone by, we decided to travel through our taste buds. From YTL Hotels' Malaysian fried chicken to Wilderness Bisoke Lava Pudding,  here are five Grifco foodies attempting to re-create the culinary prowess and mixology magic of our clients.  After all, if the mountain won't come to Muhammed…
Kate Colquhoun takes us to Cognac:
'This is my take on a cocktail from Hotel Chais Monnet and Spa, Cognac, France. The recipe is from their Bar Manager, Roxanne Remmery – a light, fresh drink to welcome the spring – a touch of citrus for freshness and of herbs for their softness' 
Salut!
Ingredients:
– 50ml Generous Gin
– 25ml fresh lemon juice
– 15ml homemade grapefruit peels syrup
– 2 dashes rosemary tincture
– 2 dashes orange blossom water
– soda water
Garnish : lemon slice and dry rosemary
Tabby's take on YTL Hotels' Calamansi Chicken: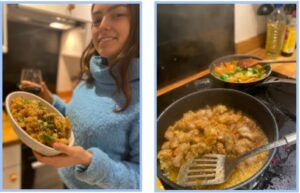 "Inspired by the fantastic Chef Lim Fang at YTL Hotels' Pangkor Laut Resort, this is my take on his signature Calamansi Chicken.  A few challenges arose when I realised Calamansi is a rare citrus fruit native to Southeast Asia… But the humble lemon prevailed as a substitute and the sweet citrus mixed with crunchy fried chicken was a winner.  Swap the same old stirfry for this saucy number if you want a real taste of Malaysia.'' 
Ingredients:
– 1.2kg boneless chicken
– 180g corn four
– 30g sesame seeds
– 100ml calamansi juice (this can be found in British supermarkets if you know where to look!)
– 130g plum juice
– 120g chilli sauce 
– 600ml cooking oil
– Salt & pepper to taste
Method:
– Slice the chicken legs and coat with cornflower and sesame seeds, then deeply fry until they are golden in colour and crispy in texture (approx. 4 minutes)
– Heat the oil in the wok, pour in the lime juice, plum juice and chilli sauce then add the crispy chicken
– Toss together in the pan for about 20 seconds. Season to taste, then serve with hot, steamed Jasmine rice
Anna's Twist on Wilderness Safaris' Bisoke Lava Pudding, Sans Chocolate!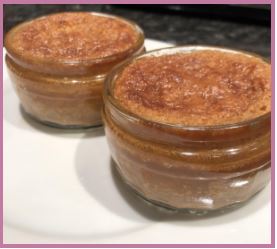 "As a keen baker, I was particularly excited to try out making Wilderness Safaris' Bisko Lava Pudding which I thought was going to result in chocolate fondants. What I ended up making however was a rather delicious caramel and coffee flavoured flan. Inspired by the evocative scene of Mount Bisoke which is a dominant feature of the scenic views from Wilderness Safaris' Bisate Lodge, these chocolate fondants without chocolate created a rather unusual tasty treat."
Ingredients:
Serves 4
– 2 eggs 
– 2 egg yolks 
– 1 tsp vanilla extract 
– 1 ¼ cups (450 g) tinned caramel treat/dulce de leche 
– ½  cup (125 ml) strong Rwandan coffee 
– ¼  cup (35 g) plain (all-purpose) flour, sifted
Method:
– Preheat oven to 220°C (425°F). Place the eggs, yolks and vanilla in the bowl of an electric mixer and whisk for 4–5 minutes or until very thick and pale. Add caramel treat and coffee and whisk on low speed until just combined.
– Add the flour and carefully fold through the mixture. Divide the mixture between 4 cup metal dariole moulds.
– Place the moulds on a small baking tray and cook for 10 minutes or until golden brown but still slightly soft in the middle. Allow to stand in the moulds for 1 minute.
– Using a small knife, carefully loosen the edges of the mould and invert the puddings onto the plates. Serve immediately with ice cream.
Lara finds a use for leftover crusts with Tuscany Now & More's Pappa al Pomodoro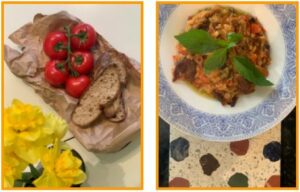 "With a brother living in Florence, yearly trips to Tuscany are usually the norm, so I'm really missing my annual pilgrimages at the moment, and especially the food! As a vegetarian, it's easy to assume that the meat-heavy Tuscan dishes wouldn't cater well to me, but actually some of their best dishes are the most simple, celebrating the freshest ingredients and traditions of the region. Armed with some leftover Gail's bread and plenty of olive oil, I transported myself back to sunny Florentine days with Tuscany Now & More's take on the traditional peasant dish, Pappa al Pomodoro. Delizioso!"
Ingredients:
Serves 4
– 4 garlic cloves, peeled and chopped
– 2 leeks, sliced
– 1kg ripe tomatoes, skinned and diced
– 500g of stale rustic bread, torn or cut into 1-inch chunks
– 2 cups vegetable stock, extra if you want a thinner consistency
– Basil leaves to garnish
– Salt and pepper
Method:
– Heat olive oil in a large saucepan over medium heat. Add the garlic and cook, stirring, until the garlic begins to brown (keep an eye on the garlic and make sure it doesn't burn). Add the leeks and cook, stirring, until soft. Add the diced tomatoes, season with salt and pepper, and bring to a simmer.
– Cook for 15 minutes and once tomatoes are reduced, stir the torn or cut bread into the mix. Add the stock and stir, bringing to a simmer. Continue to cook and stir until the bead breaks down and soup thickens into a porridge-like consistency. Add more stock if you want a thinner consistency.
– Serve warm with a generous drizzle of extra-virgin olive oil, and top with a basil leaf or two.  
Buon Appetito!
Nicole Shakes Up The Churchill Bar & Terrace's 'The Cigar Smoker' Cocktail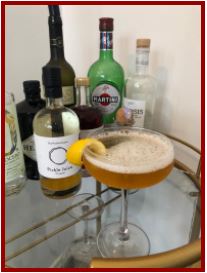 "One of the ways in which I've navigated my way through lockdown boredom is experimenting with various cocktail recipes, so I thought I'd try my hand at The Churchill's The Cigar Smoker; reminiscent of the wave of woody smoke left behind the famous Prime Minister everywhere he went. I think I'll leave the aromatic 'smoke bubble' that this cocktail requires to the experts…"

Ingredients:
– 50 ml Roasted Green Pepper infused Cenote Blanco Tequila
– 30 ml Noilly Prat
– 30 ml  Tomato shrub
– 20 ml Grapefruit Oleo-saccharum
– 30 ml salted Cacao Husk Brew
Method:
– Fill a mixing glass halfway with cubed ice (use either the base of a cocktail shaker or a pint glass)
– Add the cocktail ingredients in the mixing glass
– Hold a bar spoon with your thumb and first two fingers at the top of the twisted part of the shaft. Dunk the bar spoon into the glass and twirl the shaft back and forth and up and down for 20 to 30 seconds.
– Strain the drink into a well-chilled glass appropriate for the cocktail