When you think of the medieval town of Cognac, naturally what first springs to mind is the drink. Yes, that is undoubtedly why the region is famous, but it is also known for its incredible food. In recent years, Cognac, situated in southwest France has cemented its position on the culinary world map, offering delicious local produce including wine, goat's cheese, truffles, foie gras and fresh seafood. Thankfully, the town has lots of great countryside walks along the riverside, which is an excellent remedy for a full stomach!
Situated on the banks of the river Charente, amid vine-covered countryside, Cognac is unquestionably one of France's most idyllic towns, representing, as the French say, La France Profonde. Hotel Chais Monnet & Spa is one of the town's architectural jewels. The hotel was built following the renovation of the historic Monnet cooperage and ageing cellars just steps from some of the most esteemed Maisons de Cognac in the region. The old cooperage has been transformed into an atmospheric jazz bar, Le 1838 which has a selection of more than 220 different cognacs and an extensive cocktail menu. The hotel has also been recognised as an industrial heritage site.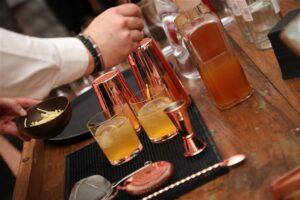 While not everyone in the area is a walking Larousse Gastronomique, eating and drinking well is of prime importance in the Poitou-Charente region. The local cuisine is based on two elements: fresh seasonal ingredients and culinary ingenuity, often seen in the region's leading Michelin venues. So, if you're a culinary connoisseur, indulge your senses with the most exclusive food experience at the hotel's restaurant Les Foudres, whose chef, Marc Antoine Lepage, led the hotel to win its first Michelin star in January. Guests enter the restaurant through the impressive 'Chai Cathédrale', which is almost 9 metres high, before entering more intimate dining areas to enjoy all of his culinary creations. The restaurant's unique backdrop of the is the perfect place for guests to enjoy intimate meals with friends and family.
Head Chef Marc Antoine Lepage's passion for cooking started early, at the age of 14, leading him to develop the impressive culinary skills he has today. His dreams became a reality when Michelin Star Chef Philippe Vételé showed him the ropes at the Anne de Bretagne restaurant in Nantes. Before taking the helm at Les Foudres, Lepage worked in prestigious French hotels, such as Le Cheval Blanc in St Barths and the K2 Palace in Courchevel. The hotel's cuisine is French country cooking: Lepage's has described his cooking as "authentic, sincere and tasty". One of his signature dishes is "The Egg", which was inspired by a memory from his childhood – the famous boiled egg accompanied by bread and soldiers. However, it's nothing like the egg and soldiers you are probably imagining. He infuses the egg with a foamy cream and then adds black ham and some croutons. Finally, he tops it off with grated black truffle… sublime!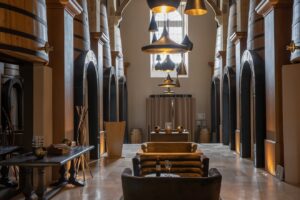 Following a lengthy period of lockdown, no doubt couples, families and friends will be wanting to come together for some quality bonding time this summer. Hotel Chais Monnet & Spa offers the perfect opportunity to do so, with spacious hotel grounds, luxury service and privacy. Just a 1.5-hour drive from Bordeaux and with a charming city centre bursting with a vibrant gastronomic scene, numerous cultural events, 400 cognac houses and an ultra-luxurious hotel, Cognac should be the destination on everyone's bucket list this year!