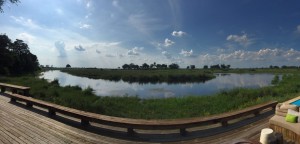 "Mind Branches!" Khan, our zealous Botswanan guide, shouts from the front of our safari jeep. As we whip along the rugged foliage of the Linyanti Region with Wilderness Safaris, in search of the elusive Big 5, I realise we are a long, long way from
home. The blistering African sun warms our bones as we turn a corner and stumble upon a tranquil watering hole, adorned with a mother and baby elephant refuelling for the day. The baby elephant trots peacefully along the long grass, chasing a bird without a care in the world. The mother protectively guides her baby with a defiant nudge of her trunk, giving us a deadpan stare as she passes by for good measure.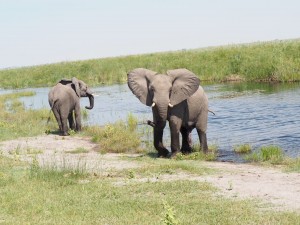 Suddenly, a radio signal interrupts our transfixed gazes and we are fast on the move again. A lioness and her cub have been spotted nearby and the light is beginning to fade, as a burnt orange, purplish hue announces the arrival of dusk along the African plains. We arrive just in time, the lioness and her cub casually stroll out of the bush, unperturbed by our vehicle near inches away from their territory. Rolling around in the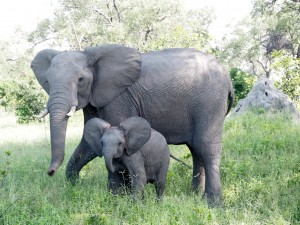 bushland and playfully batting his mother with an oversized fluffy paw, we forget for a second that these creatures are predators that could pounce any minute. 'Try not to stand up or make any sudden movements', Khan's warning words jolt us back to reality. His wide toothy grin quickly puts my mind at ease as I realise that we are in no danger in the hands of our expert guide who knows the bush, and its inhabitants, like the back of his hand. After the light dissipates he seamlessly guides us back to camp, navigating twisting and turning overgrown pathways with ease.
Returning to our tented haven, Kings Pool – a resplendent safari camp bordering Chobe National Park and famed for its basking hippo residents – we let the day soak in. Aptly greeted with a feast fit for kings, accompanied by a display of traditional African dancing and singing, we gorge ourselves beyond civility before crawling into bed.
Rising the next morning to the melodious sound of bellowing hippos, wallowing in the muddy lagoon in front of our luxurious tent, we leave the camp in search of our next adventure. Following a 20-minute flight with Wilderness Air we are at our next destination – Vumbura Plains – a luxurious barefoot safari setting wrapped around a warming camp fire, opening out to the sprawling floodplains of the Okavango Delta.
Awaking at 5am the next day, having mastered our early wake-up calls thanks to Kings Pool residents, we spring into action with our guide, Emang, eagerly at the helm. Rife with activity, the Delta lives up to our expectations; within hours of our first game drive, we witness grazing zebras, giraffes, buffalo, hyenas and a group of gaggling ostriches.  Just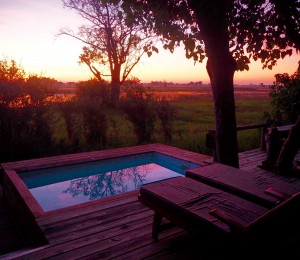 when we think we have seen it all, we receive an all too familiar radio signal. Zipping along through the lush vegetation at full speed, we reach a towering tree. Lithely sprawled across its highest branches, masterfully camouflaged from all predators, lies a solitary leopard basking in the early evening sunlight. Captivated by the incredible beauty of this mysterious animal, we spend the remainder of our drive watching her lazing in the treetops before gracefully slipping off into the distance.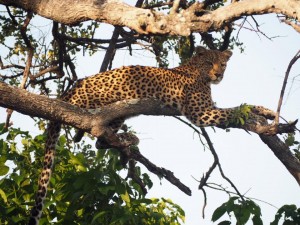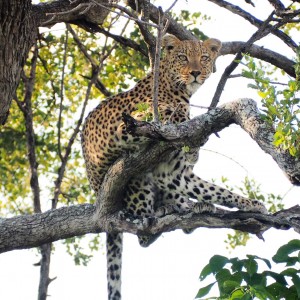 A massive thanks to Wilderness Safaris for a fantastic and truly unforgettable experience. For more information on the camps plus their other camps in Africa, visit Wilderness Safaris.com
Emily Wilson