After months of preparation, canapé deliberation and champagne tasting, all was in place and the much anticipated Park Hyatt Event was finally upon us. Last night we were pleased to welcome 29 General Managers from Park Hyatt hotels across the globe, as well as a host of special guests, including Britain's finest travel writers, Elle McPherson, Simon and Yasmin Le Bon, Lisa Maxwell and Alice Beer, for an exquisite evening held at the esteemed Hamiltons' Gallery in Mayfair.
As a fond follower of the Park Hyatt brand, gallery owner Tim Jefferies kindly opened his doors for this exclusive event, adorning walls with an especially curated collection of artworks including iconic pieces such as Irving Penn's Cigarettes, Richard Avedon's Dovima With Elephants and Helmut Newton's photograph of Elsa Peretti in a bunny costume.
With a strong emphasis on art at the heart of the Park Hyatt brand, Hamiltons' was the perfect location for this special occasion providing an elegant and sophisticated back drop for a perfect evening.
Throughout the event Billecart- Salmon Brut Rose and Blanc de Blanc Brut champagne flowed as guests and General Managers mingled; many holidays were planned, honeymoons inspired and a couple of elaborate PR ideas were born…watch this space!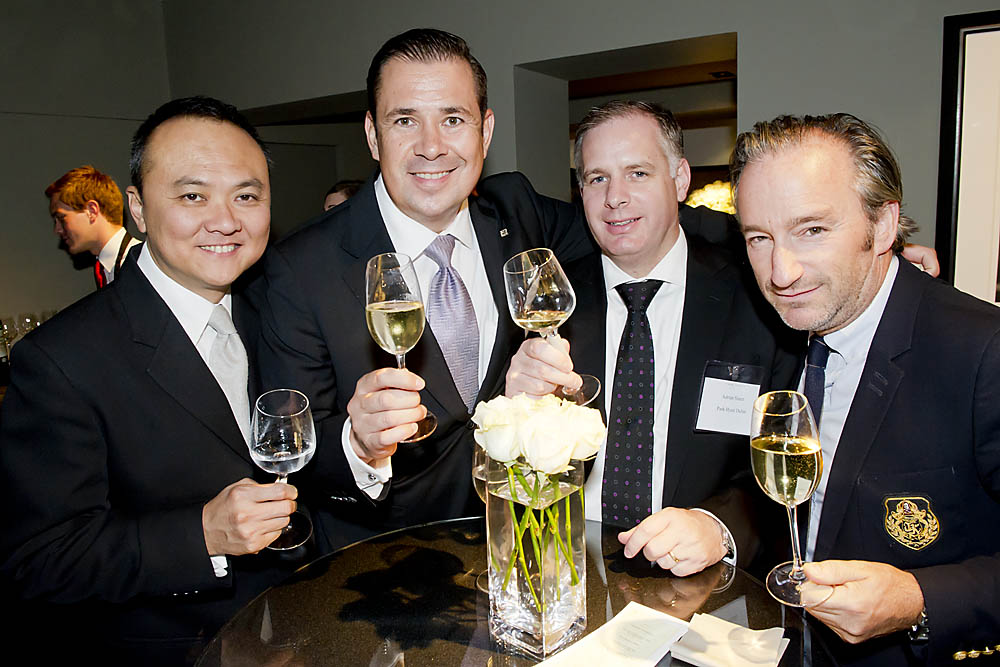 Chef, Jean Francois Rouquette from Park Hyatt Paris- Vendome and Chef Andrea Aprea from Park Hyatt Milan flew over to London for the event representing Park Hyatt chefs from around the world with a recipe book of delicious canapés created and collated especially for the event offering 'Kamchatka Crab Bruschetta' from Ararat Park Hyatt Moscow; 'Foie Gras Lolliops, Grapes Gelee and Yoghurt Flakes' from Park Hyatt Paris Vendome; 'Yuzu Marinated Salmon' from Park Hyatt Tokyo; 'Beef Tartare with Quail Egg and Summer Truffle' from the Park Hyatt Milan and to finish a delectable 'Chocolate Crème with Carrot- Orange Jelly and White Chocolate Crumble' from the Park Hyatt Zurich. Needless to say there was not a leftover in sight!
As the evening came to an end, guests began to leave in a champagne haze dreaming of their next Park Hyatt holiday and clutching their goody bags containing a beautiful box of gift certificates, kindly donated by the Park Hyatt General Managers, exclusively for the evening's guests.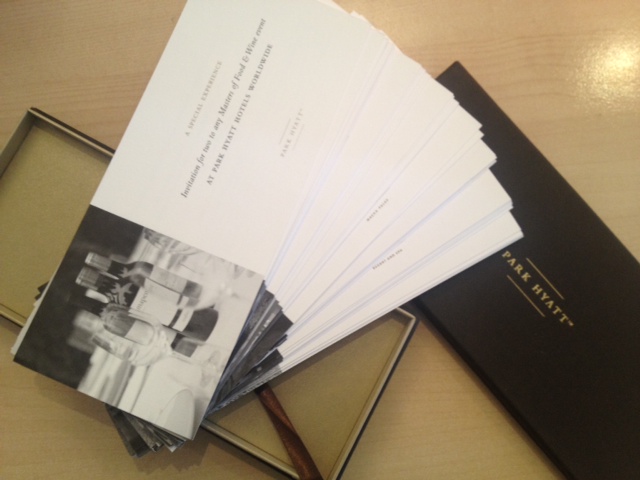 My feet may still be throbbing from wearing 6 inch stilettos but it was worth it!!