This spring, I was fortunate enough to travel to Zimbabwe and Botswana on a once in a lifetime trip with Africa Albida Tourism and luxury safari operator, Wilderness Safaris. As this was my first time to Africa, I had absolutely no idea what to expect, but after two weeks exploring these beautiful countries, each one completely different in their own right, I now understand why people say that Africa gets under your skin and in to your blood…because it really does!

My adventure began in Zimbabwe, a country previously labelled "too dangerous" to travel in due to its political situation – a great misconception as I was about to discover. Zimbabwe is, in fact, an astonishing country, boasting spectacular scenery, warm and hospitable people, and abundant wildlife. It is no wonder it was recently selected as the World's Best Tourist Destination and Favourite Cultural Destination for 2014 by the EU European Union Council of Tourism & Trade.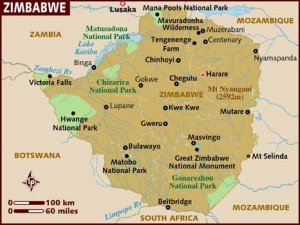 The Republic of Zimbabwe is a landlocked country located in the southern part of Africa, between the Zambezi and Limpopo Rivers, with a population of just under 14 million. Formerly known as Southern Rhodesia, a term derived from the surname of Cecil Rhodes, the primary white instigator of white colonisation of the territory during the late 19th century, its present name is taken from the 11th century city, The Great Zimbabwe ("Dzimba dza mabwe" means "great houses of stone" in the Shona language).
My first stop was the world famous Victoria Falls, known locally as "Mosi-oa-Tunya" or "The Smoke That Thunders". I was staying at Africa Albida Tourism's luxurious Victoria Falls Safari Club, a beautifully placed five-star luxury hotel, a short drive from the main town and a welcome escape from the crowds of tourists gathering to see one of the Seven Natural Wonders of the World.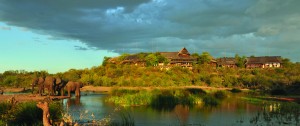 After nearly a day's travelling, my double bed had never looked more inviting, topped off with a stunning sunset over the Zambezi National Park, which I enjoyed from the comfort of my own private balcony with a cold gin and tonic taken from my complimentary mini bar! It was here I realised I was a million miles away from the hustle and bustle of London life.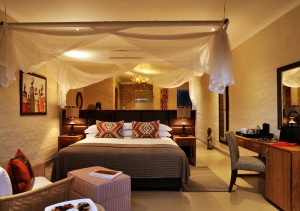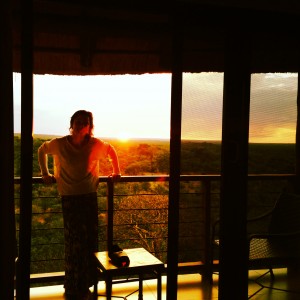 On my first night, I was thrown in to the thick of it, so to speak, with a night at the famous BOMA Restaurant, an enriched dining experience of African culture not to be missed if you are passing through Vic Falls. With an all you can eat buffet (impala terrine and barbecued warthog are on the menu, both delicious), a lively African drumming workshop, and fortune tellers and traditional face painting on offer, it was here that I became fully immersed in my African adventure!
The next day, it was time to visit the world's largest curtain of falling water – the Victoria Falls – a must see for any discerning traveller. I was lucky enough to explore them by foot…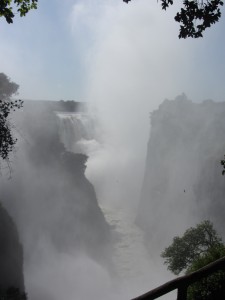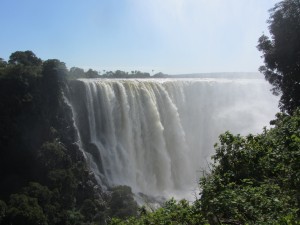 …as well as by an exhilarating helicopter ride, one of the many adrenaline-pumping activities that can be arranged by the Africa Albida Tourism team at this tourist hotspot.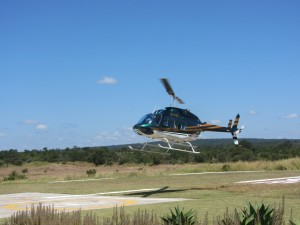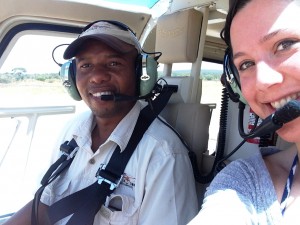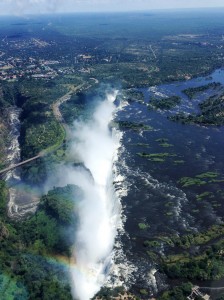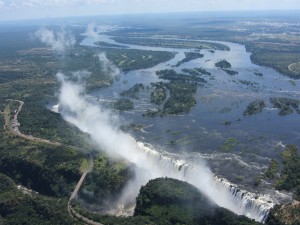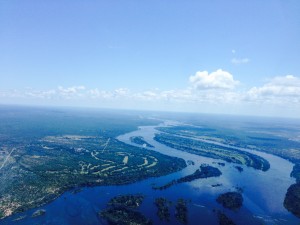 Later that day, I was welcomed on board the ultra luxurious Zambezi Explorer to take a sunset cruise down the Zambezi River, another activity possible in this part of the world. Here I was able to take in yet another gorgeous sunset, all the while listening to the sounds of hippos and exotic birds, and enjoying a non stop flow of delicious cocktails and canapés.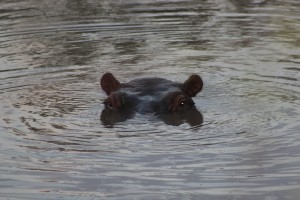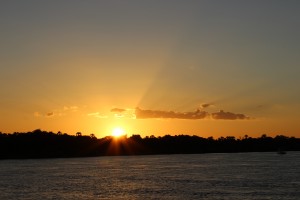 After two nights at Vic Falls it was time to step out of my bikini (the pool at Africa Albida's Victoria Falls Safari Lodge was hard to tear myself away from) and in to my safari trousers. I took to the sky with Wilderness Air for a short one hour flight and headed to Hwange National Park, the largest game reserve in Zimbabwe, home to over 100 mammals and 400 bird species.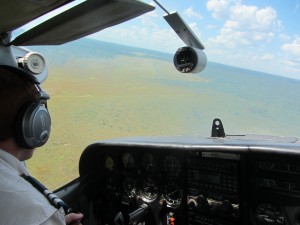 From this height you could see large herds of elephant gathering at the waterholes.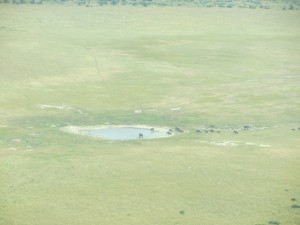 During my time in Hwange, I stayed at the enchanting Little Makalolo Camp…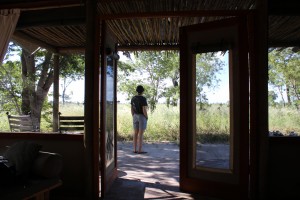 …and Davison's Camp, both of which boasted luxurious tents with large, comfortable double beds and amazing views in to the vast wilderness…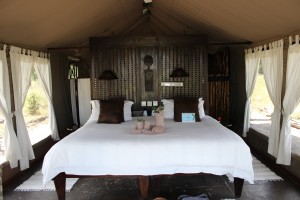 …a fabulous communal area with plunge pool…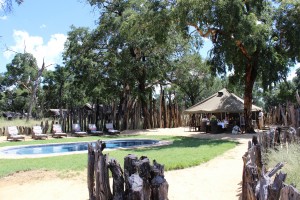 …delicious food…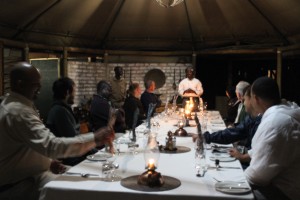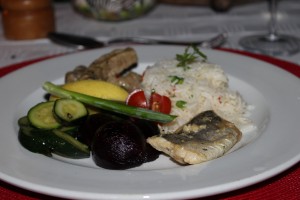 …friendly staff with a great sense of humour, like our guides Charles…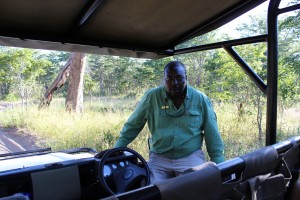 …and Tendai (who found a friend along the way)…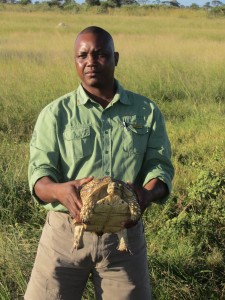 Hwange is home to plenty of water buffalo, zebra, elephant, ostrich and lion which roam freely – it is a safari-lover's paradise!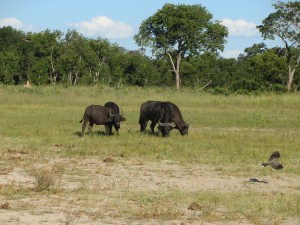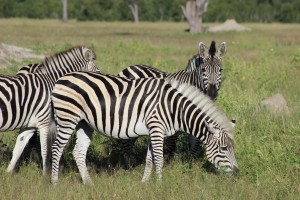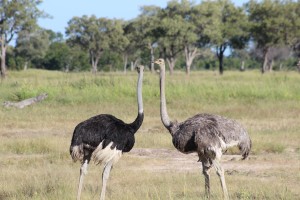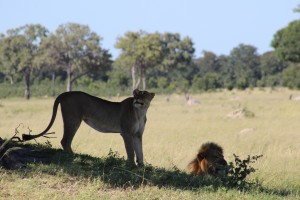 I even managed to catch a glimpse of a leopard crossing the track – it was a blink and you'll miss it moment.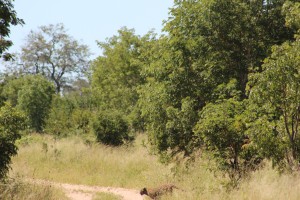 One of my favourite animals was the majestic sable antelope, which has a beautiful colour of rich chestnut to black.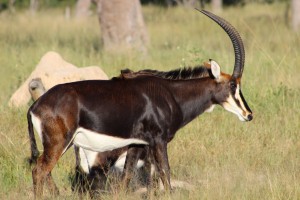 Spring time is a great time to go on safari if you want to see animals and their young. I was lucky enough to see a group of sable antelope calves running around the place in pure joy and excitement.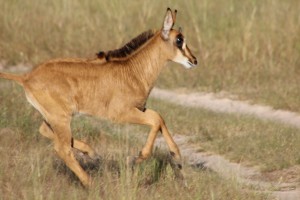 For those who haven't been on safari before, early morning starts are routine. Each morning at 6am, the lovely Wilderness Safaris staff at both camps would make sure we were suitably filled with a delicious breakfast of fresh fruit, homemade muesli, yoghurt, eggs, toast, and coffee or tea – a great way to start the day before setting off for another safari adventure.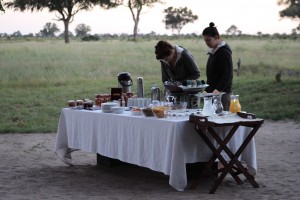 Hwange National Park is just brimming with wildlife – everywhere you look there is something to see.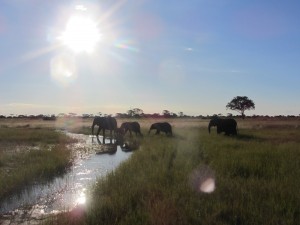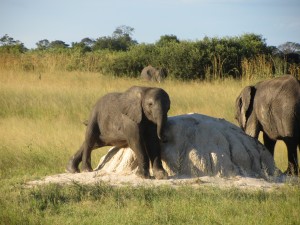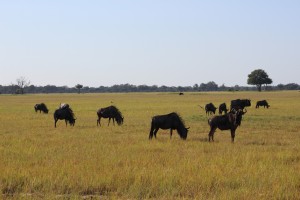 After an adventurous few days in Hwange, my next stop was a two hour flight further north to Wilderness Safaris' jaw-droppingly beautiful Ruckomechi Camp, overlooking the Zambezi River, in the Mana Pools area.
Flying over Lake Kariba…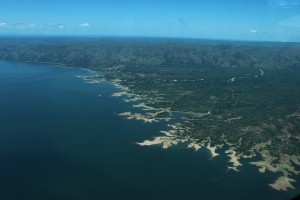 …I arrived to find another beautiful paradise.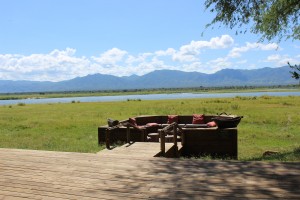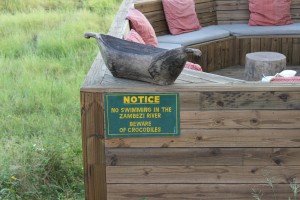 It was hard to drag myself away from my room when the view was this good!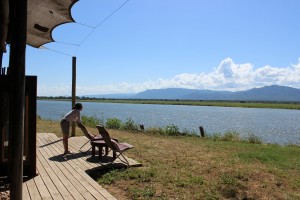 The landscape in the Mana Pools area is strikingly different. Vast herds of impala set against a background of lush green trees and mountains…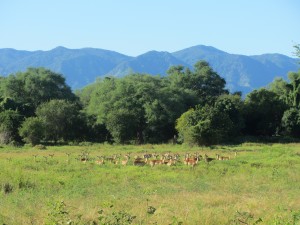 ..as well as the stillness of the Zambezi River. Canoeing with our guides, I came across elephant, hippos, birds and monkeys…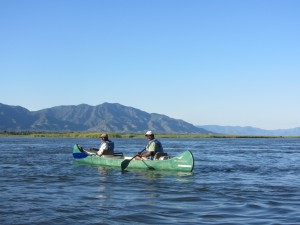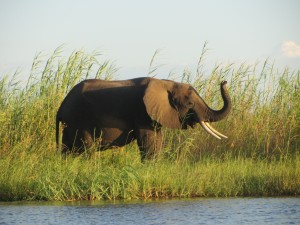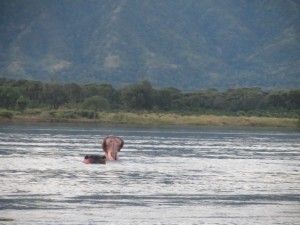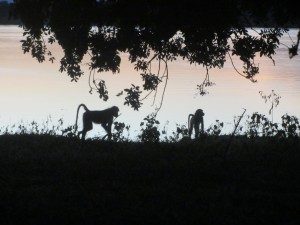 Following a busy afternoon trip on the water, it was time to enjoy a much deserved sundowner with my guide, Engelbert.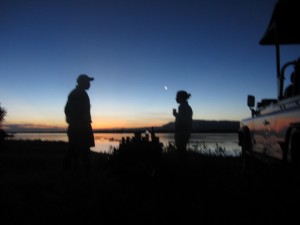 After seeing hundreds of pictures in magazines and books of a typical African sunset with an acacia tree, I finally got to take my very own!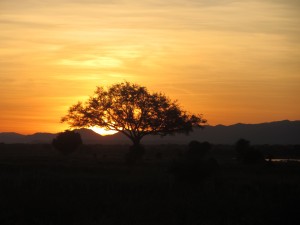 Next on my trail was Wilderness Safaris' gorgeous Toka Leya in Zambia, where I arrived to find a stunning haven of relaxation, hidden on the banks of the mighty Zambezi River in the western sector of Mosi-oa-Tunya National Park, about 12km upstream from Victoria Falls.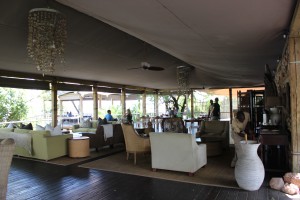 After checking in to my room, I fueled up on a delicious afternoon tea set against a breathtaking view…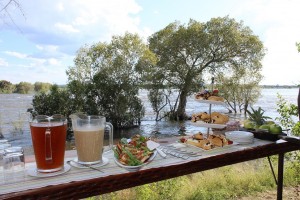 …before taking a leisurely boat ride to enjoy the surrounding natural habitat and wildlife…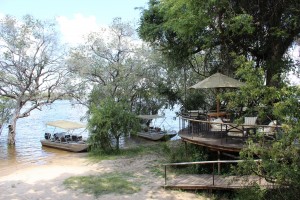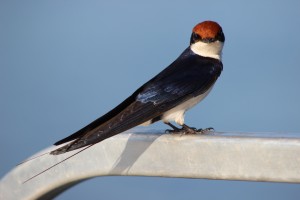 White rhino are part of the dedicated conservation and research effort from Wilderness Safaris in the area. I was lucky enough to visit the Mosi-oa-Tunya National Park, where 14 of this endangered species are based and under 24-hour watch administered by Wildlife Police Officers.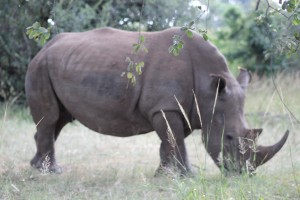 After all the excitement of seeing rhino, I had to wash this down with a local 'Mosi' beer!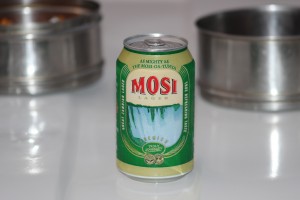 As with all good things in life, my trip to Zimbabwe had to come to an end, but I still had another week to explore neighbouring Botswana, another landlocked country, and one of the most sparsely populated countries in the world.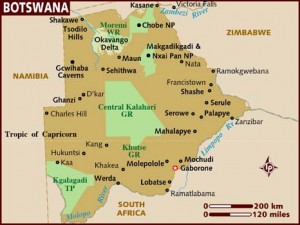 Here I would spend two nights at Africa Albida Tourism's gorgeous Ngoma Safari Lodge, boasting spectacular views of the Chobe River and one of the most impressive Baobab trees I had seen since arriving in Africa! Set beneath pink-strewn African skies, this magical place is located in the stunning Chobe region, offering excellent game viewing including a vast number of elephant.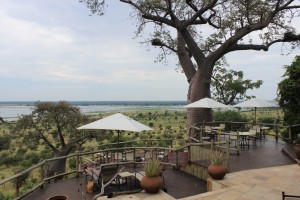 Each morning I woke up to an incredible view…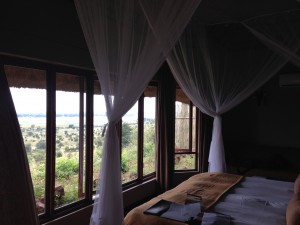 …including a sighting of at least fifty elephant crossing the Chobe River.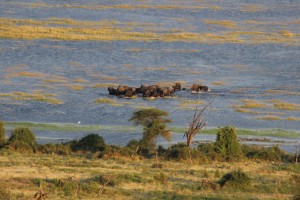 We took a game drive in Chobe National Park, which has one of the largest concentrations of game in Africa, and spotted plentiful amounts of elephant, giraffe, lion and water buffalo.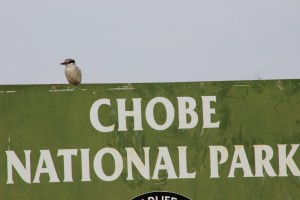 One of the most endearing creatures I came across was the humble warthog…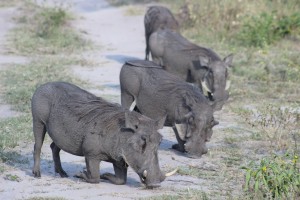 …while my favourite bird was without doubt the lilac breasted roller – also the national bird of Botswana.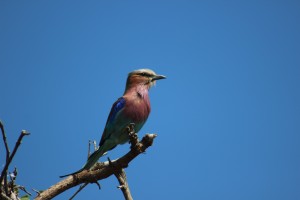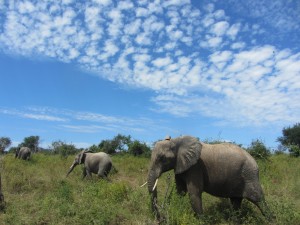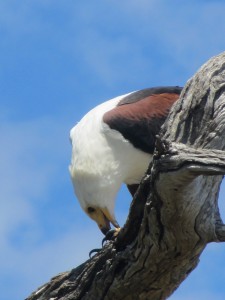 During one game drive, we spotted a pride of lion out hunting in the midday sun which our guide noted as being unusual…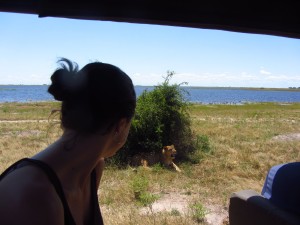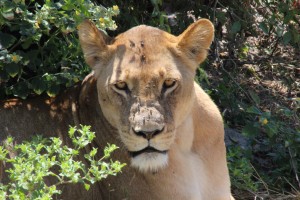 Here the lioness is going after an impala – after a nail biting chase, she lost out in the end.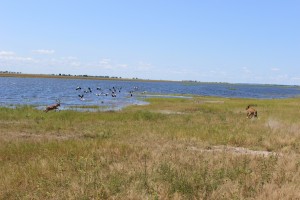 After a long day, we came back to the comfort and luxury of the lodge to enjoy a stunning sunset with a refreshing G&T – both of which had become a mandatory part of the day, almost ritualistic.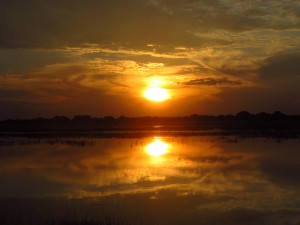 As night crept in, Ngoma was brought to life with twinkling candles and we dined out on an incredible four course dinner…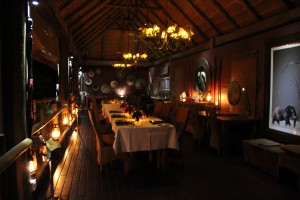 A fellow guest of ours…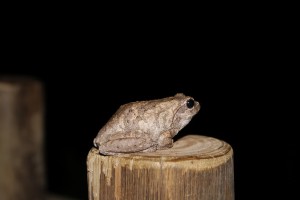 Next on the adventure was a trip to Wilderness Safaris' Premier Kings Pool Camp, based in the game-rich Linyati Wildlife Reserve. Our pilot was able to fly quite low, affording us some stunning views from the plane.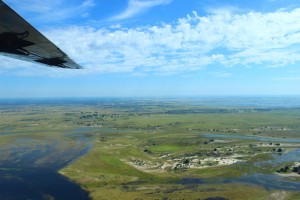 Kings Pool overlooks the beautiful oxbow-shaped Kings Pool Lagoon.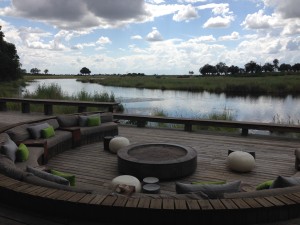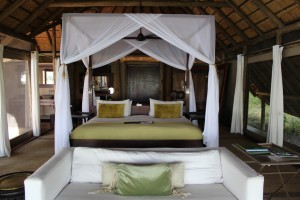 While some of us tucked in to a delicious, healthy buffet and bubbles…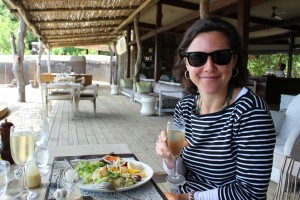 …others were helping themselves to the local supplies…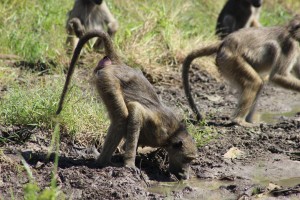 The highlight of Kings Pool was the pack of African wild dog we came across, now considered a highly endangered species.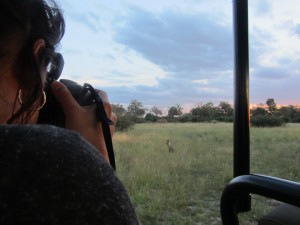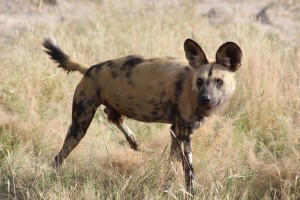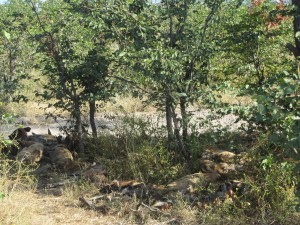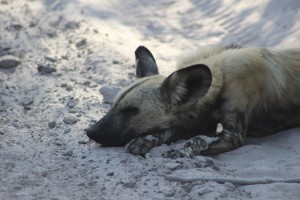 I continued to sip sundowners on the elegant Queen Sylvia, whilst cruising down the Linyati River and listening to the birds and hippos crying out.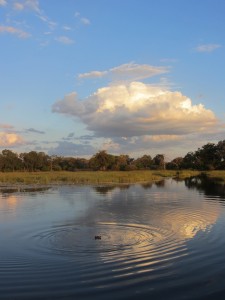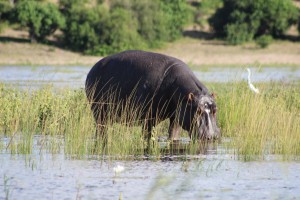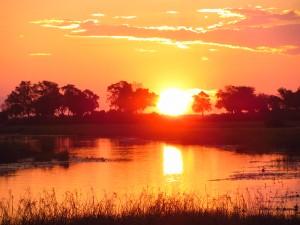 One night our group was even treated to a traditional Botswana song and dance display by the Kings Pool staff.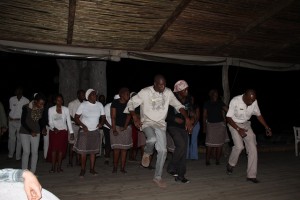 The next day, after fuelling up on breakfast…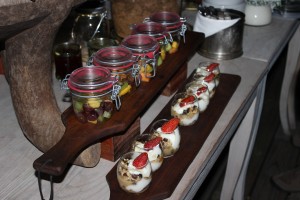 ..it was time to head to the Okavango Delta with Wilderness Air, this time to Wilderness Safaris' Chitabe Camp based in a private concession area.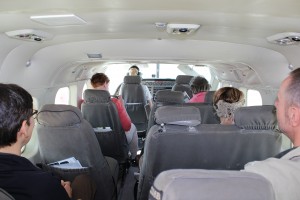 The highlight was spotting a pride of lions and their tiny lions cubs playing with each other. They didn't seem to be phased by us at all, which made for some great photos!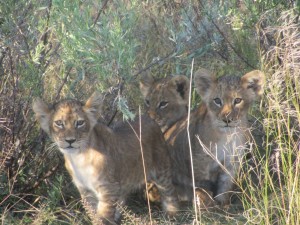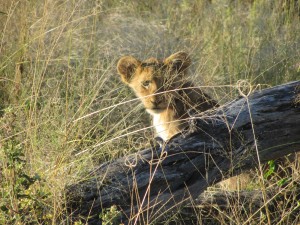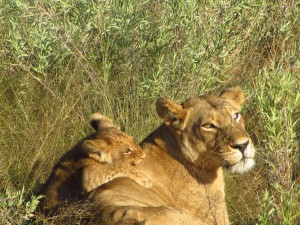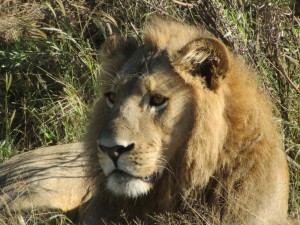 The landscape around Chitabe is quite dramatic – half deserted desert, half grassland, with palm trees dotted around the place.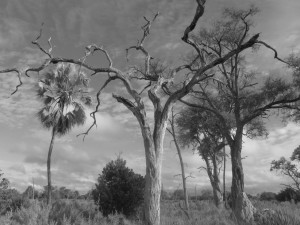 …and wild foxes roaming around the area…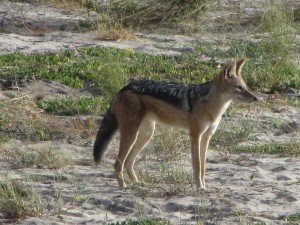 Here you can just about see a leopard taking an afternoon nap.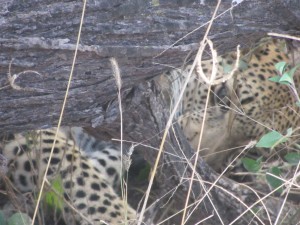 My final stop was in right in the heart of the Okavango Delta, at Wilderness Safaris' Xigera Camp, aptly named Paradise Island as it is surrounded by deep channels and lush vegetation. Here I spent a morning on a mokoro, a typical canoe-like boat used by the local people, floating on crystal-clear waters, on the look out for life on the Delta.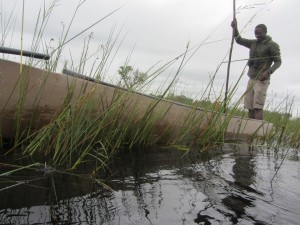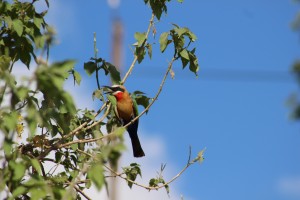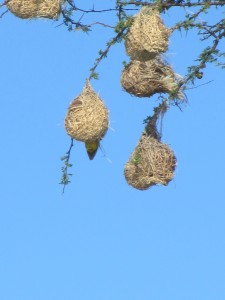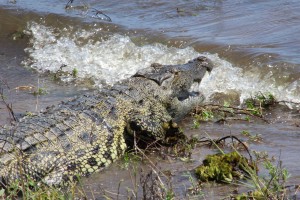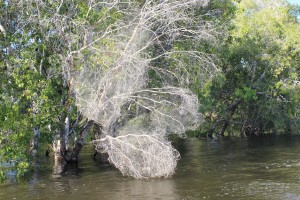 After two weeks my incredible African adventure had to come to an end. Getting up at 6am for breakfast, going on a game drive, returning for a hearty lunch followed by a siesta, waking up to afternoon tea, going on another game drive, taking in the sunset with a sundowner, and ending with a 3 course dinner – this had all become part of my African routine. It would be strange returning to London and not falling asleep to the sounds of lion and birds around my tent.
What I will take away most from my trip is the kindness and generosity of the people I met from the Africa Albida Tourism and Wilderness Safaris teams, the stunning accommodation with breathtaking views I was lucky enough to experience, and the unforgettable wildlife on show. Now that the dust of Africa is in my blood, there is no way of rubbing it out.