The 4th July was the obvious date to open a new hotel whose vibe is all things Brooklyn. So it was that the second hotel from the multi-award-winning Hotel Brooklyn brand threw open its doors on Monday 4th.
Vast glass doors lead to a huge reception lobby which is surmounted by a first-floor atrium with floor to ceiling windows that look directly onto the stadium of the (now Premier Champions) Leicester Tigers. There is even a bridge linking the hotel to the stadium and the friendship between the two is made decoratively obvious with vast tiger-face murals and tiger-themed wallpaper in the hotel bar.
Hotel Brooklyn, Leicester has impressive footsteps to follow – it's Manchester sibling is already lauded as one of the most – if not the most – accessible hotel in Europe, winner of The i Newspaper's Hotel of the Year Award among many other prizes. It's a brand all about inclusivity and removing the barriers that stop some from being able to enjoy public spaces and hospitality. So dedicated is Brooklyn to this mission that even the staff changing rooms, showers and lockers are designed for both able-bodied and disabled team members.
The place is full of light – the huge bar and 'The Lair' – the restaurant – as well as a big communal working space is open-plan and high-ceilinged, flanked on both sides by tall windows so that it has the feel of an ocean liner about it (with a much more energetic vibe). The bedrooms have a gritty industrial aesthetic and every guests receives a 'hooch' bag with a can of Brooklyn Beer and a G&T, a bag of popcorn, and bars of chocolate.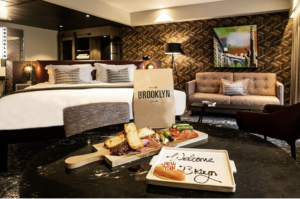 At our opening event we had the local hospital staff, influencers, the local press and radio, national press journalists, Leicester businesses and public officers (including the brilliant Visit Leicester team): all stakeholders on whom any new hotel opening relies. Fizz and espresso martinis were matched with pints of beer and lots of laughter and it felt like the building itself – designed to host – was getting into the stride of it's purpose.
I wonder who will be the first guest to order a pillow fight from room service… For some mad guest there will be a lot of fun, and a lot of mess, with someone else to clear it all up afterwards.….