Tivoli Marina Vilamoura in Portugal's Algarve is celebrating the arrival of autumn with the opening of the Glee Boutique Café. Conveniently located in the hotel's lobby, the new ever so chic patisserie offers guests the ideal opportunity to enjoy a caffeine hit or confectionery, with delicious lattes, cappuccinos, chocolate bonbons and colourful macarons just some of the enticing indulgences on the menu.
Glee Boutique Café boasts fresh, modern design inspired by the pastel shades of the star of the menu, the cute and colourful macaron, with Instagram worthy details right down to the exquisite porcelain. Exclusively designed by traditional Portuguese porcelain company, Vista Alegre, the cups, saucers, plates and teapots are the perfect match for every pastry served and create the ultimate tablescape that's almost too good to eat.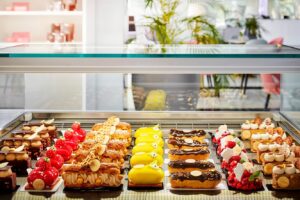 Warming teas, coffees and hot chocolates, offer ideal accompaniments to the delicacies on offer. Guests can also opt for fresh and healthy smoothies, cocktails or mocktails, making a visit to Glee an ever more enticing option whatever the time of day or season. As well as the iconic macaron, guests can look forward to creative French pastries, truffles, chocolates and of course typical Portuguese sweets, including the famous pastel de nata, all made freshly in house under the watchful eye of the hotel's pastry chef Patrício Mestre.
With more than 25 years' experience in the world of pastry and confectionery, chef Mestre joined the Tivoli team in 1997. He is delighted to be overseeing the new Glee Boutique Café, where he brings skills from his training at the Center Européen des Professions Culinaires, Boulangerie Du Soleil and the Patisserie (Groupe Flo), in Paris. As well as the sweet treats in the café, chef Mestre and his team have created an exclusive collection of personalised products for guests to take away and enjoy during their visit or at home as the ultimate holiday memento.