Grifco recently caught up with the lovely Peta Hunt, Editor At Large of You & Your Wedding, at THIRTY SIX By Nigel Mendham during the Grifco Supper Club. We asked Peta all about the latest honeymoon and bridal trends, her favourite holiday destinations, and travel essentials she will not board a plane without!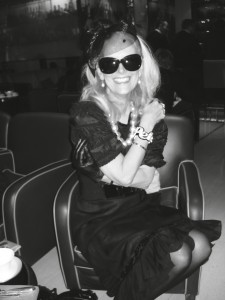 Grifco: So tell us Peta, what do you think the top 2012 bridal trends are?
PH: Big but light airy dresses with full skirts, or simple slinky dresses. Straps and sleeves are finally back – hurrah! Designers are going for less embellishment – we are over full on bling for brides. Tulle and lace are also trending at the moment in the bridal world.
Grifco: Where do you think the hottest wedding and honeymoon destinations are in 2012?
PH: UK weddings are working well all year round, so you can have a three day wedding festival partying with family and friends. As for honeymoons, so many of our couples have already done Thailand and Europe and are now looking for something a bit different. Our top honeymoon destination tip is South America. Who would not love to explore the rain forest, while staying at a 5 star floating hotel? Couples can hit the beaches of Brazil or be amazed by Argentina, where you can ski for the weekend and then party the night away in Buenos Aires.
Grifco: In your opinion Peta, who is this year's it bridal designer and why?
PH: That is a tricky one, as I love too many just to name one! At the top of my list – and in no particular order – is: David Fielden, Monique L'Huillier, Oscar De La Renta, Elie Saab, Packham, Delphine Manivert, Claire Pettibone, Charlotte Casadejus, Alice Temperley… Hang on, I'm listing my address book here! Honestly, most brides that I get to see are truly beautiful no matter the designer. I just love that beaming with happiness look.
We all loved William and Kate's wedding last year, but for me, I'd rather have been a guest at Kate Moss's wedding. It was traditional but so very modern. She really seemed to enjoy being with all her family, bridesmaids, and mates. But please don't think that you have to get Galliano to make your dress! High street favourites such as Coast, Phase 8, and Monsoon have fantastic dresses under £500. So you really can have your dress and wedding cake too!
Grifco: In the last year, where was your favourite place that you visited and why?
PH: Ahh, why are you making me pick just one? This is so hard, so I am going to ignore you and say I loved Raffles in Seychelles, it is a new well-designed resort bedded into the hillside. You stay in private villas, which have huge doors that fold back so you can jump straight into your private pool if you can't face the buggy ride down the mountain to the main resort. Your private butler will bring you whatever you need. As for the spa, I had the best massage listening to the sea. I was so relaxed I rode a bike for the first time in 10 years! The staff encourage you to try something different, so you don't just lay on the most fantastic beaches the entire time. I tried cooking classes and pilates, again, both a first for me! I took a boat trip out and watched the sun go down, which was really special. The sun looked bigger and all the more colourful here.
I also fell in love with the Hotel Grand Du Cap Ferrat, France. Who would have known that a glistering white hotel would be so calming and charming by isolating you from the outside world? This hotel sits on the edge of the sea and oozes with luxury. You even get a chair to put your handbag on when dining – now that is posh! I sunbathed and relaxed in a private cabana and had a swimming lesson from a man that taught every A-list celeb to swim in a huge infinity pool. When I wanted to eat – they do have the best macaroons, ever! – I dined under a canopy of pine trees with the smell of jasmine wafting on a warm breeze. It was hard to believe that Grey London was just two hours away!
Grifco: Peta, what is your all-time favourite holiday destination and why?
PH: Hotel Cap Rocat because I never expected to fly to Mallorca, which is only an hour and a bit away via London City Airport, and to be so charmed by staying in an old fort, which has a drawbridge, bunkers and ten foot thick walls! This is 5-star lux but for those who don't want a fuss. The food is perfect, there are only 24 rooms, the staff is amazingly friendly and the most divine breakfast is brought to your room in a hamper so it's just like getting a gift each morning. If I were a rock star, this is where I would stay!
Grifco: Do you have any travel essentials that you can't travel without?
PH: Here's my essentials list: iPad (so I can read my book and catch up on tv!), moisturisers, and BB creams by the bucket load! I also bring antihistamine tablets with me because every flying biting insect is attracted to me.
Grifco: Last question Peta, what is one bit of advice you would tell a bride before she starts planning her wedding?
PH: Stick to your budget and make sure it's your day and not everyone else's. If you have to cover the chairs in fabric you are staying at the wrong hotel! No one ever says after a wedding, "lovely wedding, nice chair back covers!"