As of this weekend, Val d'Isère reaffirms its position as a top year-round destination as it welcomes visitors back for the summer season. Tourists, families, and adventurers can flock back to the striking mountains for a peaceful summer break with new scenic hiking routes, a bike park adapted for e-bike users, sports complexes and delicious lunches with views over the mountain tops. 
E-biking and running
For those looking for some off-slope activities, Val d'Isère has extended its e-bike offering with new trails around the whole village. Visitors can cycle amongst the pros at the E-Bike Festival which will be taking place from the 29th-31st July with a series of races and a fair. As well as the fresh trails, individuals or groups can take part in lessons and guided rides. Further boosting its sports offering for the summer, Val d'Isère has also opened two brand new running routes through the lakes and green forests of the Le Manchet Valley for runners of all abilities, as well as hosting the Odlo High Trail Vanoise event on the 9th & 10th July which takes place every summer attracting over 1,500 runners to Val d'Isère.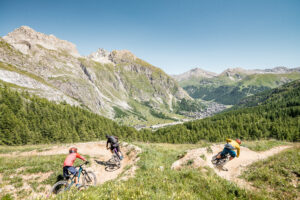 Activities for families
As a holder of the Family Plus Label, families are always well looked after in Val d'Isère, and this summer is no different as children and teenagers are welcomed to explore the resort on an action-packed summer holiday. Val d'Isère is excited to share different activities and offerings such as the Village Perdu, an adventure area in the heart of the Etroitis forest, featuring suspended wooden walkways through the trees in collaboration with the French National Forestry Commission. Giving parents a little time to themselves, the village also offers the Aiglons Club, inviting younger visitors aged 3-16 to explore the mountains and partake in sports, cultural activities and arts and crafts.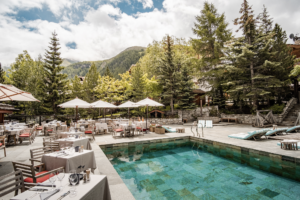 A hiking trip to sleep under the stars
Visitors looking for a unique adventure this summer can head to the Prariond refuge, a two-hour hike from the Vanoise National Park, where travellers can wander through beautiful waterfalls, wildflowers and lush green hills, ending at the mountain refuge in a spacious dormitory or tent to experience a beautiful summer's night sleeping under the stars.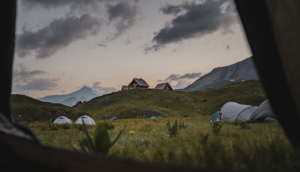 Relaxing in Val d'Isère
Val d'Isère is also the perfect option for a more relaxing summer break, with a brand new wellness programme available at the Refuge de Solaise, France's highest spa and luxury hotel. This tranquil package features activities such as adult and baby yoga, guided meditation and luxurious body and facial treatments whilst looking out over the peaceful mountain peaks. Further down the mountain visitors can unwind whilst enjoying some of France's finest local cuisine at one of Val d'Isère's many gourmet restaurants such as the two Michelin starred, L'Atelier d'Edmond which offers bistro style food, in front of a flowing waterfall and verdant forest.