What if getting fit and doing good didn't have to be two separate enterprises…With the festive lights of December long gone and unfulfilled new year's resolutions rapidly creeping in, we all share that sense of disenchantment with the winter months.  But no one suffers from the growing cold more than those with nowhere to shelter from it.
Why not take your 'get fit' resolution one step further this year and take part in The Race to End Homelessness: Calton Hill Edinburgh?  YTL Hotels have teamed up with national homelessness charity Crisis to put on the race, which is the first of its kind in Scotland.  The run is an extension of the Crisis' Square Mile Run series in London, an initiative that has raised more than £2.5 million towards ending rough sleeping over 26 years.
YTL chose to sponsor the event at The Glasshouse Edinburgh in light of the hotel's fascinating and altruistic history.  The Glasshouse was one of the philanthropic Lady Glenorchy's many 'free churches for the less wealthy' offering shelter to people affected by homelessness. Today, the hotel's gothic façade remains as a reminder of the chapel constructed in 1846.   And it's not the first time YTL have headed up this kind of enterprise.  In keeping with YTL Hotel's 'Chapman's Challenge', a sponsored two-part event at Pangkor Laut Resort in Malaysia, The Race to End Homelessness is a continuation of the group's ability to craft rewarding experiences and empower travellers.

With a similar spirit of limit pushing, the famous Chapman's Challenge at Pangkor Laut Resort in Malaysia is taking place once again this year, celebrating the anniversary of Colonel Freddy Spencer Chapman's heroic journey.  Chapman was a British commando who made his escape from Emerald Bay in 1945 from the occupying Japanese.  Through sheer tenacity and determination, he swam across the bay and lay in wait for a rescue submarine. His captivating story has inspired hundreds of people to take part in the sponsored challenge, consisting of a 3.8km run around the island and 2.4km through untouched rainforest, culminating with a 1km swim in the sea of Emerald Bay before concluding at Chapman's Bar.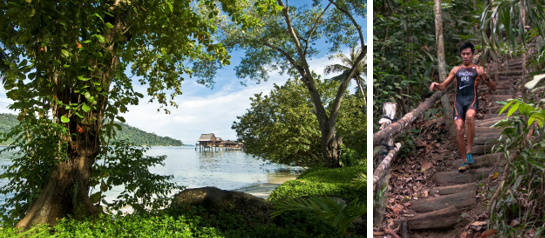 The unique experience of Chapman's Challenge was crafted by Pangkor Laut Resort to honour Spencer Chapman and the resilience of the human spirit his story represents. Incorporating the private island roadways and the two million-year-old rain forest, 2020's event will be one to remember, marking 75 years since Chapman made his daring escape and will be held from 15-17th May.
Similarly, The Race to End Homelessness: Calton Hill will give 500 people the chance to take on a 5k or 10k route through the city, ending with a dramatic climb up Calton Hill before crossing the finish line at The Glasshouse, with post-race celebrations on the hotel's rooftop garden. Held on Sunday 15th March 2020, the race offers the chance to raise vital awareness and funds to end homelessness in Scotland.
Calton Hill is one of Scotland's first public parks, sitting 100 meters above sea level, the challenging ascent will be well worth it, as panoramic views over the city await at the top. From here, runners will be on the final sprint to the finish line at The Glasshouse, beside the city's Playhouse on Greenside Place, a stone's throw from Edinburgh's Royal Mile. With stunning Edinburgh city as its backdrop and The Glasshouse hotel as its finish line, there are few better settings to push your physical limits whilst helping such a good cause, perhaps excluding the Malaysian coastline…

Both events bring together like-minded people with the desire to get the most out of their exercise.  YTL are giving budding and established fitness enthusiasts alike the chance to get motivated and help others, so there are no excuses not to lace up your trainers.
What: Crisis' Race to End Homelessness (10km and 5km)
When: Sunday 15 March 2020
Time: 10km 9.25am, 5km 9.45am
Dress code: Fancy dress encouraged!
How much: £20 registration fee with commitment to fundraise at least £50
Sign up: www.crisis.org.uk/caltonhill