In early September, a group of five journalists, another colleague from Grifco, and I embarked on a journey to Chateau Lazuline, a stunning property nestled in the picturesque Normandy countryside. This charming chateau is one of the stunning villas in the ever-growing Oliver's Travels collection.
Our journey commenced with a touch of luxury, as we enjoyed the comforts of Eurostar's Business Class, where we were treated to a three-course meal crafted by the renowned chef Raymond Blanc. Upon our arrival in Paris, we swiftly made our way through the bustling city centre and headed to the tranquil countryside of Normandy. Upon arrival at Chateau Lazuline, we were all taken aback as we saw the breathtaking property for the first time. The twin turrets, blue shutters and stunning gardens looked like something from a film. We also received a lovely welcome package from Oliver's Travels which can be organized through their concierge service. The early wake-up suddenly seemed worthwhile!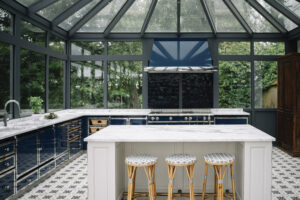 The interiors were as stunning as the exterior. The chateau is a harmonious blend of New York design and classic French elegance. A spacious conservatory opened up to reveal a picturesque swimming pool and an inviting outdoor seating area, providing the perfect setting to relax and reconnect with family and friends.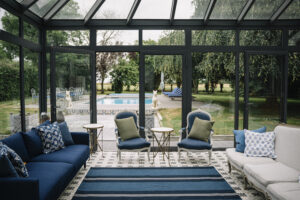 After everyone had settled into their rooms, we were introduced to Fredrick Poyer, the head chef from a local restaurant called L'Amandier, who cooked a delicious 3-course meal in front of us as we sipped on wine from the restaurant. The following day, we embarked on an adventure with the Rouen Tourist Board. We indulged in a gastronomic tour, tasting fresh pastries and cheeses, followed by a guided tour of the local area and an insightful delve into its history. That evening, we were treated to more culinary delights at Chef Frederick's restaurant in Bourg Achard.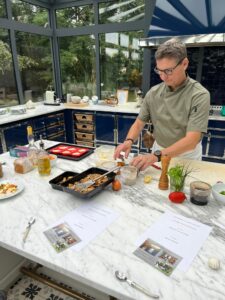 We had a leisurely start to the next day, allowing us to fully relax and enjoy some time by the pool before we ventured to the coast to explore the Fecamp area. We concluded our day by crafting our own cocktails at Benedictine Palace. Upon our return to the Chateau, the second chef prepared a delicious three-course meal, courtesy of Dineindulge (one of the services available to book through Oliver's Travels concierge team). We spent the evening indulging in exquisite food and nattering over our shared love of France. Is there anything more relaxing than a few days in a French chateau drinking wine… thank you Oliver's Travels – we will be back!