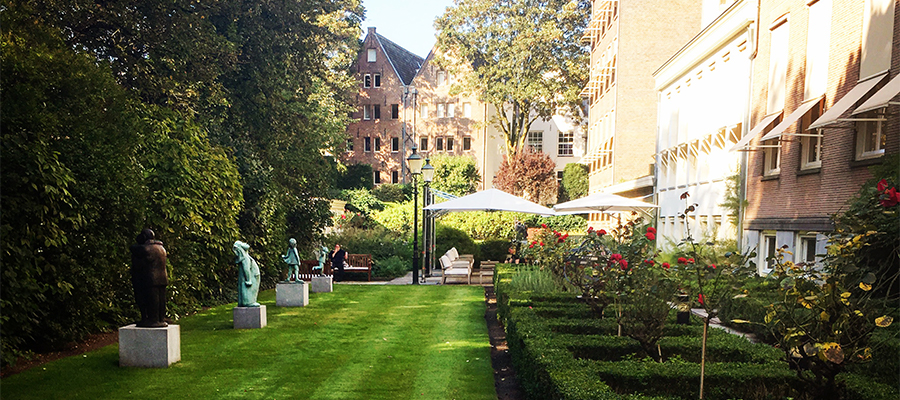 Waldorf Astoria is a hotel group whose name is synonymous with absolute luxury and elegance. One of its most recent additions, the Waldorf Astoria Amsterdam is the epitome of both of these as it sits so prettily on Herengracht, a long linear road that lies next to the canal.
Given the option of room check-in, the Fragrance Master knocks on the door and offers you the choice of what you would like your room to smell like for turn down service…..a simple, unforgettable gesture that makes you feel incredibly special.
The hotel itself is an historical masterpiece, as it is constructed from six 17th century townhouses, each inhabited by some of the city's most colourful characters over the years. The Vault Bar coined its name from the fact that it sits in the basement where the old bank vault used to be……with a set of original lockers still in place (whether there was is still any treasure to be found is undisclosed!).
The bar snacks are delicious and if you fancy something more substantial, the hotel also has the Goldfinch Brasserie and the two-Michelin starred Librije's Zusje Amsterdam.
Your hotel room will either overlook the peaceful canal or beautiful garden – one of the very biggest in Amsterdam. Tough choice to pick which you would prefer!
The historical aspects of the hotel are fascinating….
The rooms and suites are the height of sophistication, each holding their own charm and personality. Here are two of the most impressive suites – the Van Loon and Bretano.
The hotel is also one of the few hotels to have a Guerlain Spa….its blissful pool looking out to the garden.
And if you can really truly bear to leave the idyllic settings of Waldorf Astoria Amsterdam, the heart of the city is on your doorstep to explore. A fabulous location that will ensure you to have an unforgettable experience.